About me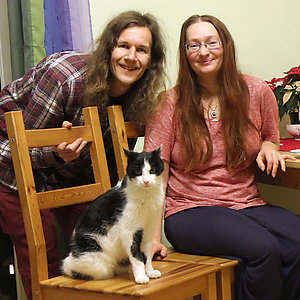 I'm a Finn, married since 2014 and living together with my wonderful German wife Sandra. Our home base is near Füssen at the foot of the German Alps. A black and white elderly cat Germaine used to share our apartment with us until she passed away at the good age of 18.5 years.
Since a kid I've liked technology and continue to spend a lot of my time in front of my computer, both professionally and privately. When not staring at the screen, I like to travel, learn new languages, take photos, go hiking in the wilderness, ride my bicycle, and generally spend time outdoors — most of which match Sandra's passions too. So we travel and admire the nature together, but this website remains mainly my hobby.
Studies and work
I studied computer science in the Helsinki University of Technology (nowadays part of the Aalto University), including two exchange years at INSA, Lyon, France and at Kanazawa University, Japan.
In my working career, I've specialized in large computing and storage systems for scientific use, and long term preservation of data. I've also been a programmer, a researcher and a journalist. CSC - the Finnish IT Center for Science was my employer for almost ten years.
Since March 2016, I'm dividing my time between IT projects and working as a guide. I did two 8-month seasons at the Neuschwanstein castle and am one of the official guides in Füssen, the nearby town. For more details please take a look at my cv.
Non-profit organizations
Several non-profit organizations have played a big role in my life. Both my wife and me are active in hospitality exchange, you're welcome to visit us! You'll find us at least in the following networks:
My website
I try to avoid special tricks and keep these pages simple and standards compliant. They should all be readable with any browser. If you find a page that isn't or have any other comments, please drop me a note.
---
Arto Teräs
<ajt@iki.fi>
— last update 2019-02-21.