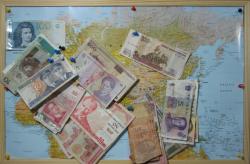 My last day at work was Friday 9th of June and then I needed to get my flat empty by the morning of Monday 12th. And it actually took until the morning, didn't have much sleep last weekend. But now all that is done, tomorrow I'll take care of the last things I still need to do before departure and board a ship to Tallinn early Friday morning.
My great colleagues at CSC had put together a cool farewell gift which you can see in the picture. I'll try to report later what I ended up buying with those notes. :) They also gave me a solar panel charger but after considering the extra weight including the 12V chargers for my phone and camera I decided to trade it for a small water filter.
My employer was not the only organization where I needed to plan for leaving. In 2005 I was the chairman of Finnish Linux User Group and board member & webmaster of Japania ry, a Finnish-Japanese friendship organization. When all the work is done by volunteers it can be non-trivial to find someone to take over. In retrospect, getting rid of the non-paid activies was at least as difficult as finishing work. However, I feel that all of them are doing okay and I can start my trip without too many worries. Reserving enough time was the key for that.
No feedback yet
---
Copyright
Arto Teräs
<ajt@iki.fi>
, licensed under the
Creative Commons Attribution-Share Alike 3.0 Unported License
. (Unless otherwise mentioned in individual photos or other content.)