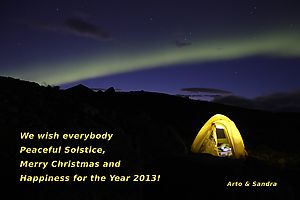 I'm traveling with Sandra to Northern Norway for the last two weeks of the year to join a gathering of other likeminded people. It will surely be a different Christmas than we've ever had before - non-commercial and without rush. We will celebrate the winter solstice with the sun remaining under the horizon all the day. The moon, stars and northern lights will be visible if we're lucky.
We wish all of you a merry end of the year, in whatever way you're celebrating it, and let the new year 2013 be full of happiness! The photo in our season's greetings card is from our summer and autumn trip to Finland and Sweden. We were hiking in the the Sarek national park in Swedish Lapland and set up our tent next to a small river in the wilderness, far away from trails and huts. Around half past ten in the evening the sky was illuminated by this beautiful arc of green light.
We spent also several weeks visiting family and friends in Finland. Mushroom and berry season was great so we ate plenty of chantarelles, blueberries and lingonberries, and also filled quite a few jars with them. At my father's summer cottage we spent a week renovating the sauna as a 65 year birthday surprise for him. We also had time to read a few books, but somehow didn't manage to update the blog. :-)
In the beginning of October we returned to Germany, in time for Sandra's best friend's wedding. October is usually a good time for outdoor activities in southern Germany and this year was no exception, many sunny days with blue sky. When not being outside we worked on a few more things in our flat and tried our best to get bureaucracy stuff done. It takes an amazingly long time after selling a business before bills and other letters from various directions finally stop coming.
During winter and/or spring 2013 we're planning a trip to South-East Asia, particularly to visit Sandra's father who is living in Thailand already since more than five years. But before that we'll see how we'll manage the cold above the polar circle. At least it's not only a camp - there should be some kind of heated building and maybe even a sauna.
---
Copyright
Arto Teräs
<ajt@iki.fi>
, licensed under the
Creative Commons Attribution-Share Alike 3.0 Unported License
. (Unless otherwise mentioned in individual photos or other content.)