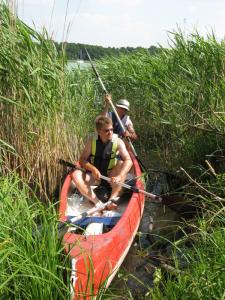 My trip has advanced until Warsaw. But before Poland I'll get briefly back to the Kaliningrad part.
We didn't have any major problems, but as we expected, traveling through Kaliningrad was a bit more complicated than crossing the Baltic states. First of all, the citizens of most countries need a visa to enter Russia. In Finland that's easy to get, so it's mainly just an extra cost. There are less accommodation facilities especially in smaller towns than in the surrounding countries, so you may need to plan a bit more to ensure a place to stay. And the hotels may give odd answers when trying to make reservations as we discovered.
Our friends in the Koenig bicycle team had recommended us hotel Deima, which was a bit outside city center but reasonably priced. They had web pages so we enquired about room availability via email. Completely full, was the answer, even when asking separately whether there was room for any of the days during our stay. The hotels which said they had rooms available were very expensive and offered only single rooms. But surprise surprise, when the local cycling team members called Deima on the same day we were arriving, we were immediately offered a three person room, just perfect for us. At the hotel it was obvious that there were plenty of rooms available — we were not the only guests but there weren't many other customers. Interesting way to do business.
When in the region everything was much easier. Our local friends were kind enough to guide us around in the city, but going to places on our own and later traveling to the east wasn't a problem either. English was not usually spoken and our Russian abilities were minimal, but very often we found someone who spoke German. Traffic wasn't bad, especially when choosing slightly smaller roads on the countryside. Definitely an area worth a visit. Final word of warning: reserve time for crossing the Kaliningrad–Poland border. For us it took 2 hours and we were luckier than even any of the Polish cyclists crossing at the same time. Had we come by car, 24 hours might not have been enough.
After crossing the border we were again surrounded by facilities targeted at tourists, increasing further when riding to the Mazurian lake district which is a very popular holiday destination also for Poles. For a Finn who has spent time on the lakes in Eastern Finland the area was maybe not as magnificent as for the locals, but nice nevertheless. We rented a canoe for one day and did a small paddling trip to the nearby shores and small islands.
Another completely different interesting sight which is located in the same area are bunkers of the German headquarters during the Second World War. They are actually divided into two largish groups about 20 kilometers apart from each other, both groups consisting of several dozen bunkers with thick concrete walls. You can go and take a peek to the massive building where Hitler gave his commands and read about the history on the information boards, but more interesting was to see how the bunkers actually disappeared in the forest even though they weren't built underground.
After the lake district we spent three days riding to Warsaw. Mikko and Sami flew back to Finland on Thursday so I'll continue my trip alone again. Warsaw is a nice city with lots to see, but I'll write more about that later.
P.S. I added a picture of a torpedo boat and Dom Sovietov in my Kaliningrad post. I had prepared it already on a usb stick earlier, but the library machine which I used to write the post wasn't so new that it would have a matching port. More photos some time in the future when I've time to select the best ones and prepare picture galleries.
No feedback yet
---
Copyright
Arto Teräs
<ajt@iki.fi>
, licensed under the
Creative Commons Attribution-Share Alike 3.0 Unported License
. (Unless otherwise mentioned in individual photos or other content.)