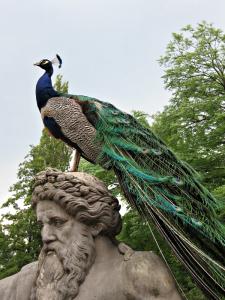 I spent five and half days in Warsaw, leaving Monday July 17th, and arrived in Krakow on Friday. So I've seen both the capital, currently also Poland's biggest city, and taken a peek at the ancient capital.
The old town of Warsaw was mostly destroyed in the second world war but rebuilt after it to minute detail. The job was done so well that it was difficult to imagine that the whole area was almost flat still 60 years ago. The buildings were in nice shape but still genuinely looked old. Perhaps the best hint of the destruction was actually that the style was almost too perfect. Modifications done during the 19th century and first half of 20th century were not recreated during reconstruction so there were no modern looking structures between the old style buildings.
I liked Warsaw quite a lot. The old town was nice and while it was fairly small it wasn't too crowded. The area surrounging the university had a nice athmosphere, topped with a library covered by a garden on the roof. During the summer there were plenty of concerts, many of which were held outdoors free of charge. There were also a large number of good museums and pleasant parks scattered around the city. For example the museum of the Warsaw Uprising was exceptionally well done. I thought I'd be done with it in an hour or less, but eventually spent 2.5 hours looking at the exhibits.
Krakow had better luck in the war: it's the only big Polish city which survived with little damage. The historical city center of Krakow is therefore genuinely old and boasts almost an overload of historical architecture. In addition, many buildings have magnificent cellars which are filled with numerous cafes, bars and clubs.
The downside is that Krakow is also well known among tourists which come to the city in masses. There can be long queues at the ticket counters, marketing tries to squeeze everything out of old legends and souvenir shops fill open spaces. In that respect, despite all the reconstruction Warsaw felt somehow more original than the well preserved Krakow.
I don't mean that I'd be disappointed with Krakow. There are lots to see, there's good nightlife and the city is also surrounded by several interesting places. Ojcow national park and Wieliczka salt mine were beautiful and Auschwitz-Birkenau death camp (especially the Birkenau part) was a must for a different reason. I'm planning to still spend one and a half days in Krakow to get a better grasp of it and then ride to the Tatra mountains to escape cities again.
No feedback yet
---
Copyright
Arto Teräs
<ajt@iki.fi>
, licensed under the
Creative Commons Attribution-Share Alike 3.0 Unported License
. (Unless otherwise mentioned in individual photos or other content.)