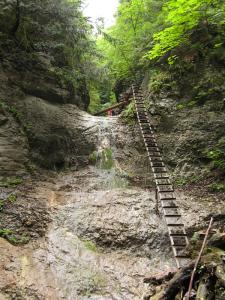 On the last day of July I crossed the border from Poland to Slovakia. The two first days I spent still in the region of high Tatras. On the Slovak side of them I didn't go up to high altitudes, partly because the weather had turned cloudy, occasionally rainy. Instead I did just a short hike to see some waterfalls near Stary Smokovec.
After the Tatras I continued a bit further south to another national park called Slovensky Raj, which translates to Slovak Paradise. There the main attractions weren't alpine style views from high peaks but gorges which go through the forested valleys of less high mountains. There were steps and ladders places in the steeper places so one actually climbed up right next to the waterfalls.
On Wednesday morning I climbed up the Piecky valley which had been suggested to me by a Hospitality Club member living nearby. It was a magically beautiful place. I walked slowly along the stream on the bottom of the gorge, looking around, listening to the flow of water and occasional raindrops touching the leaves of the trees. Cloudy and slightly rainy weather didn't matter there, it actually made the experience even more special.
I spent the whole Wednesday and Thursday morning walking around in the park and seeing many magnificent places, including the Klastorisko and Sucha Bela gorges. Sucha Bela was the most famous one and offered the most dramatic rock formations, but somehow it didn't reach the subtle beauty of some other spots. Maybe it was just that there were so many more people in Sucha Bela, I don't know, but Piecky clearly remained my favorite spot, with Klastorisko gorge scoring second.
On Thursday evening I joined the Ecotopia biketour and spent a nice relaxed Friday with them in a small village called Brdarka. I had already contacted them before leaving Zakopane so we didn't meet just by accident. I actually decided to continue with them at least for one more day, probably until the Ecotopia gathering to which we'll arrive in a few days. After a couple of days of the gathering I plan to leave on my own way again. I will then write more about the biketour and Ecotopia.
No feedback yet
---
Copyright
Arto Teräs
<ajt@iki.fi>
, licensed under the
Creative Commons Attribution-Share Alike 3.0 Unported License
. (Unless otherwise mentioned in individual photos or other content.)