In the evening of August 3rd I joined a group of about 30 cyclists which formed the Ecotopia Biketour. The tour is one way of traveling to the yearly Ecotopia gathering but for many participants the biketour is more important than the actual gathering. Many join only for a part of the tour, but those who do the whole of it spend about 3 months together.
Arto bikes for freedom,
Arto bikes for joy,
Arto's got a special feeling,
so let's bike with him
and sing this song
all the biketour long,
as our wheels fly
to Ecotopia, to Ecotopia, to Ecotopia.
That's how new members were welcomed into the group around the evening campfire. It was a nice and warm welcome, accompanied with a guitar. Accommodation was usually camping, occasionally staying at schools or similar, so there was normally a campfire every night. The fire was also used for cooking meals for the group. And as you might already guess from the theme, it was vegetarian food.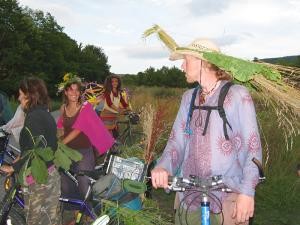 One surprise for me was that almost half of the tour participants came from Moldova, Armenia and Russia. One reason was that Ecotopia had been held in Moldova last year, another was an EU grant which helped them to pay for the visas and other costs. Otherwise, the costs of the tour, mainly food, were covered by passing a "magic hat" around. There was a guideline of paying a certain number of Ecos — which were converted to real money in a factor relative to the average income in your country of origin — but eventually you paid what you felt was right.
The Ecotopia gathering 2006 was held in Zajezova, a small village tucked between hills in rural Slovakian countryside. The community in Zajezova tries to live sustainably, doing a lot with hands instead of machines, recycling as much as possible, experimenting with alternative building techniques using clay and straw, and generally causing a low impact to the environment. Therefore it was a perfect place for the Ecotopia camp too.
The camp program consisted of workshops which ranged from discussions in a circle to self-defence skills and acrobatics, helping local people, helping with tasks in the camp, a very interesting tour in Zajezova and just having fun. There was music and dancing by the campfires every night — it was really the drummers and other musicians which kept me there for several days. :) On Friday Aug 11 evening there was a bigger party where participants from each country were expected to sing something. There was also one Finnish girl at the camp so we were two to perform "Pienet sammakot" to the enthusiastic audience.
The Ecotopia biketour was a nice experience and I made some friends which I'll surely meet in the future too. The best parts were singing around the evening campfire, common meals and other small surprises which can only be done in a group. The worst part were long discussions whether to continue cycling on a day previously allocated as a rest day or not. Fortunately the group did not strictly stick together during the actual cycling: there was an agreed destination where to sleep at the end of the day and people made their way there in small groups taking their time. However, it was still a large number of people with the pros and cons of being a group.
For long term travel I prefer more flexibility and freedom so now I'm again on my own way, posting this in Budapest. Next I'll make a side trip by train to Bratislava and Vienna to meet my family who are also coming there. After a week or so I plan to return to Budapest, spend a few more days in the city and then resume my bike tour from here.
No feedback yet
---
Copyright
Arto Teräs
<ajt@iki.fi>
, licensed under the
Creative Commons Attribution-Share Alike 3.0 Unported License
. (Unless otherwise mentioned in individual photos or other content.)