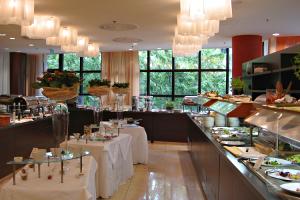 Usually I don't have problems choosing what to have for breakfast. Most often I eat some bread, cheese, youghurt, vegetables and fruits I've bought the previous day, accompanied with tea which I can prepare using my gas cooker when camping or by boiling water in the kitchen if I'm staying at a hostel. When staying in pensions or private homes I've had several breakfasts prepared for me as well, in most cases either some ready-made sandwiches or bread with a choice of cheese, cold meat products and vegetables.
In Crowne Plaza Bratislava you could point out which ingredients you'd like for an omelette specially made for you, and proceed to fill your plate from an abundant selection of bread, pastries, cheese, meat, fish, cereal, vegetables, fresh fruit, puddings, you name it. If you wanted to start your morning with a glass of sparkling wine — sure, it was included — or maybe you'd go for the more usual selection of fruit juices, coffees and teas for drinks. The picture on the right shows a part of the breakfast buffet.
The three night stay in Crowne Plaza was with my mother and two brothers; my father was too busy with his work and couldn't come. We spent in total six days together, splitting the time evenly between Vienna and Bratislava. We don't usually go for the very top end accommodation and our hotel in Vienna was more modest, but in Bratislava it ended up so as a result of some other hotels being full and my family finding an acceptable price on the Internet for the more luxurious option.
The higher standard of the rooms and especially the breakfast buffet was the largest materialistic difference to my usual days when traveling. We naturally also had good dinners together in restaurants, perhaps slightly more classy ones than I mostly go to, but even when traveling alone I quite often go to a restaurant for a nice three course meal with drinks. One of my basic guidelines in both cheap and more expensive countries is to spend more money rather on food than accommodation.
The main thing during that week was naturally to meet my family members, but we also did a lot of sightseeing in Vienna and Bratislava. I've met several other travellers who didn't like Bratislava much, but I found it quite nice. For me the compactness the old town and relatively small size of the city in general (compared to many other European capitals) was appealing rather than limiting. It was also worth going a little bit out of the center to see the Devin castle, not so much for the castle but for the spectacular setting on top of a hill overlooking the Danube river.
In Vienna I didn't feel like getting a good grip of the city in three days. We went to see some magnificent buildings, like the Opera house and Schönbrunn castle, both from the outside and inside, but they remained separate and superficial experiences for me. We spent quite a few hours every day walking around in the city but I still cannot easily name a favorite spot or area there. I would probably find some if I stayed longer but the city just didn't open up immediately for someone who is not a big classical music and opera fan. One special positive thing which I must mention as a cyclist is that Vienna had a very nice city bike system. I didn't try it but both the network of pick-up/drop-off points and the bikes looked good.
No feedback yet
---
Copyright
Arto Teräs
<ajt@iki.fi>
, licensed under the
Creative Commons Attribution-Share Alike 3.0 Unported License
. (Unless otherwise mentioned in individual photos or other content.)