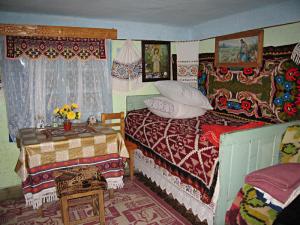 Last Tuesday I was cycling in Northern Transsylvania and planning to camp or stay in a pension somewhere by lake Colibita, a beautiful mountain lake next to the Calimani mountains. The road was following the lake shore but from a few dozen to a couple of hundred meters away from it. I took a smaller road which seemed to lead towards the shore through a small patch of forest, hoping to find a place to camp or at least take a swim.
I indeed found the shore, but also about one hundred sheep, a few dogs and two shepherds there. They were quite surprised to see such an unusual visitor. I greeted them and we exchanged a few words in Romanian using the very limited vocabulary I had learned from my phrasebook during the trip. Then I asked if I could camp somewhere nearby. After pondering for a few moments they pointed at two houses saying that a third shepherd had a free room and I could sleep there.
In a moment I found myself in a small but beautifully decorated guest room. It had a separate entrance from the house and looked like it might be a room to rent for agroturistic holidays. I'm not sure if that was the case (I didn't see any signs indicating that), but at least this time they wouldn't accept any money when I offered to pay for the room.
The shepherds went back to take the sheep in a fenced area for the night. I had some bread, cheese and fruit for dinner and walked out to the lakeshore which made the dogs go wild for a while. The shepherds were still within eyesight so I wasn't too scared of the dogs but I abandoned my plans for swimming. After a while the owner of the room came and asked me to turn off the small lamp - the house didn't have electricity and the lamp was being powered by the tractor battery! I switched to my own headlamp, put my own bedsheet on top of the bed and was just about to start writing my travel diary as the owner came back and invited me to have a drink.
It was a bit more than one drink. I joined the dinner of the shepherds which consisted of several cups of home made palinka (a kind of aperitif) followed by soup, meat, vegetables and wine. I tried to share some of the food I had but they wouldn't even want to taste salmiakki. ;) This was one of the occasions where I really wanted to be able to speak the local language, but even without many common words we managed to communicate a little bit. In the morning I was still treated to a similar breakfast (well, with a bit less palinka) before I was let on the road again. I left an origami swan, which seemed to be a funny thing to them, as a small memory and got their address so that I can send at least a postcard later.
This was not the only case of Romanian hospitality I've encountered during my trip. Near Gherla I met two local cyclists and we rode about 30 kilometers together. One of them, Alin, invited me to stay for the night at his home with his grandparents and I also there I was offered delicious meals and food to go on the trip. In the Apuseni mountains I met Michael from Germany and Tibi from Romania (but who was living in Germany), had a dinner with them and later also met Tibi's wife in Bistrita. I came to Romania with few contacts and little knowledge of the country but I seem to meet wonderfully friendly people all the time.
Now I'm in Targu Mures, staying with Erika, a Hospitality Club member. She loves mountains and tomorrow we're going for a weekend trip to Calimani mountains together with three other friends of her. I'll see if I'll meet more foxes or other animals there. :)
5 comments
Your blog make a nice conversation in a party, as we noticed with Mikko M. on Saturday. Several people were interested to hear about your trip and wished all the best for the coming days.
2006-09-25 @ 09:42
For some reason those who have the least seem to posses the most.
2006-09-26 @ 16:32
By the way, one person already asked whether the shepherds were Hungarians because palinka is a Hungarian drink. I believe they weren't because they used Romanian when speaking to each other. At least one of them knew also Hungarian though, they asked me if I could speak it.
Also, their palinka wasn't the same thing you'd normally get in Hungary. In Hungary it's normally a very strong drink, containing about 50-60% alcohol. The shepherds had the strong stuff but had mixed it with something else resulting with a drink containing perhaps 20% alcohol, and called that palinka. I'm not an expert but my guess that's one way how the Hungarian and Romanian cultures can mix.
In general, the people of Hungarian origin in the region (and there are lots of them) have many of their own traditions and want to distinguish themselves from the Romanian culture. Even when they have been born in Romania and therefore have Romanian nationality they prefer to call themselves Hungarians. That's a difference from the Swedish speaking minority in Finland, where they wouldn't call themselves Swedes. (There's a separate word 'finlandssvensk' which means a Swedish speaking Finn.)
2006-09-26 @ 21:42
Comment
from:
PIRKKO TERÄS
[Visitor]
Hei Arto, Hieman myöhästyneet onnittelut 29 vuotiaalle!Kuinka vietit synttäreitäsi? On ollut tosi mukavaa lukea matkakertomustasi. Tunnen itseni kohtalaisen tietämättömäksi, sillä lukuisat paikannimet ovat minulle outoja ja sijainti lievästi sanoen hukassa. Meillä on kouluvuosi jo hyvässä vauhdissa, Lassella on viimeinen peruskouluvuosi menossa ja minulla 33. Etelä-Suomessa on ollut liki helle, me taas olemme saaneet jo vähän räntäsadetta. Jos ei tule kaamea keli,lähdemme viikonloppuna Kuusamoon tapamaan entisiä naapureita. Kaikkea hyvää sinulle ja turvallista matkaa! t. Pirkko ja Lasse
2006-09-27 @ 01:18
palinka is only another name for 'horinca' that's our noational drink:). here in romania for every region it has a different name, and one of those is similar with the hungarian name.but it,s also called 'tuica' ..'jinars'..
2007-12-12 @ 15:18
---
Copyright
Arto Teräs
<ajt@iki.fi>
, licensed under the
Creative Commons Attribution-Share Alike 3.0 Unported License
. (Unless otherwise mentioned in individual photos or other content.)