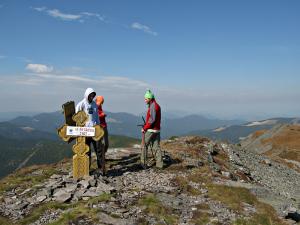 Last weekend I celebrated my 29th birthday hiking and camping out in the wild. The picture is from the top of Mt. Pietrosul, the highest peak of the Calimani mountains. At 2102 meters above sea level it's not very high, but the views were still great. And I had great company plus chocolate pudding for the birthday breakfast. :)
After a couple of days in Targu Mures and the Calimani mountains I rode 50 km south to the town of Sighisoara. It was a pittoresque town, no surprise as it's included in the Unesco World Heritage list, but one afternoon and morning was enough for me to see it. Today I continued further east to Odorheiu Secuiesc or perhaps I should rather say Szekelyudvarhely, which is the Hungarian name. Most of the inhabitants here are ethnic Hungarians and that's by far the most common language heard on the streets too. Unfortunately I've already forgot some of the words I learned in Hungary, and I find it difficult to set my mind to "Hungarian mode" as I've tried to pick up at least a few words of Romanian during the last three weeks.
An interesting detail told me by Erika, my host in Targu Mures (who was also Hungarian), was that you can often distinguish Romanian and Hungarian houses by the color of the gates. Blue gates are Romanian, green ones Hungarian and others could be either. Red seems to be a common color too, I saw a lot of red and green gates today when riding through villages.
My bike also had a special day today, as the odometer went over the 30000 km mark. Roughly half of the parts have been changed at least once since I bought it but it has still seen a lot of road for a bike. On this trip I'm at 4540 km and will add about 90 tomorrow riding to Lacu Rosu, yet another mountain lake which should be a beautiful place.
As a technical note, my site has been moved to a new server which uses a more recent version of php. This finally resolves an annoying bug with the admin interface of the blog software. If you notice that something has been broken due to the upgrade, please drop me a line.
2 comments
Happy Birthday and congrats for the 30 Kkm! Greetings from a syksyinen Suomi Upi
2006-09-28 @ 08:42
Hi Arto! Thanks for calling Szekelyudvarhely on its Hungarian name. A few other names Targu Mures: Marosvasarhely, Sighisoara: Segesvar for the sake of completeness. Good luck to your jurney!
2006-10-13 @ 15:58
---
Copyright
Arto Teräs
<ajt@iki.fi>
, licensed under the
Creative Commons Attribution-Share Alike 3.0 Unported License
. (Unless otherwise mentioned in individual photos or other content.)