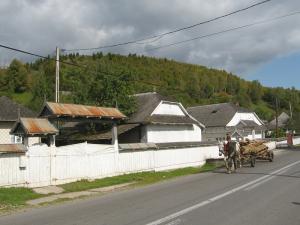 Last week I crossed the Eastern Carpathians from Transsylvania to the region of Moldavia. On the way there were still two places which deserve a special mention. At Lacu Rosu, a landslide pushed trees to the lake long ago. Still today dozens of dead tree stumps stick out from the water creating an odd landscape. Soon after Lacu Rosu, the road went through the impressive Bicaz gorges, some 300 meters high walls on both sides of the road. In certain places the road actually was partly below the rock.
That was my farewell to the mountains for a while: after Bicaz the landscape turned into hills and later to flatland. My picture this time is from Pipirig, one of the villages where I could admire traditionally decorated houses. Some typical features are visible in the photo: a two-part gate featuring both a larger and smaller entrance, decorations on the walls and roof edges, and the ubiquitous horse-drawn carriage. I cannot count how many of them I've seen on this trip. The carriages normally move at about 10-15 km per hour, so usually at least ten times per day I find myself behind one. I take a look at my mirror making sure that no cars are right behind, and then accelerate to overtake as fast as possible.
In Moldavia I also went to see a couple of beautiful religious sites, namely the Neamt and Agapia orthodox monasteries. Although the trip was not a religious pilgrimage for me, the places were certainly worth a visit. I especially liked the Vovidenia hermitage close to the Neamt monastery and the older part of the Agapia monastery on top of a hill, featuring a pretty wooden church surrounded by a garden full of flowers.
At Lacu Rosu I also met Nelu, an avid cyclist who has traveled with the Romanian professional cycling team in many places around the world, working as a bicycle mechanic or volunteer organizer in the competitions. I got his contact info from a Romanian friend in Finland. It was very nice to spend a couple of days cycling with him, he was kind enough to reduce his normal average speed by about 10 km/h to match mine. :-)
At the moment my bike is at Nelu's apartment in Bacau and I'm on a short side trip using public transport. The main destination of this trip is an European capital - Chisinau in the Republic of Moldova! In Slovakia during Ecotopia biketour I met some Moldovans who are waiting for me there, and there's a big wine festival this weekend. I'll head to the border tomorrow, armed with a printout of a web page which says I should be able to get a visa free of charge, conveniently because of the festival. Well, I'll see what happens.
2 comments
Arto Kiitos viestistä. Onnellista fillrointia. Takiyama Furo
2006-10-08 @ 16:56
Me hankittiin juuri ompelukoneoljya tukkaleikkuriin, joten voidaan oljyta sun ketjut kun nahdaan.
2006-10-13 @ 10:34
---
Copyright
Arto Teräs
<ajt@iki.fi>
, licensed under the
Creative Commons Attribution-Share Alike 3.0 Unported License
. (Unless otherwise mentioned in individual photos or other content.)