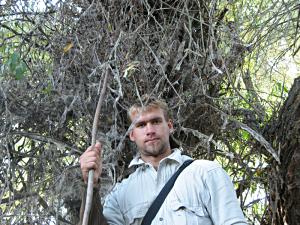 My next destination after Moldova was Danube Delta, a labyrinth of canals and lakes in the area where the Danube river flows into the Black Sea. I went there with Erte, a Lithuanian friend I already mentioned last time I wrote. We slightly changed plans so that he didn't eventually come to Bacau. Instead, we both headed further south to Galati, met there and continued to Tulcea where the delta begins. There we left our bikes in storage for a couple of days and used boats and our feet to move around.
The Danube delta is especially known as a birdwatchers' paradise and for locals the first question is "How much fish did you get?". We were a bit late for the best bird season and not very interested in fishing, but discovered that the delta is also full of other lifeforms. Hundreds of frogs were jumping to the river and taking a swim before climbing back on the riverbank. A snake wiggled between exposed tree roots and performed artistic movements when I pointed my camera at it. Cows strolled around freely between bushes by the coast of the Black Sea. Fishermen were trying to catch the biggest pikes and other fish with their rods and reels.
Other highlights on our trip to the delta:
Renting a small motor boat in Crisan, exploring the canals for a day and rowing back under the stars after the engine died
Enjoying a free dinner (fish, of course) and accommodation in a pension after the boat trip
Arriving to the Black Sea in Sulina, declaring it as a nude beach and rushing to swim
Camping on the beach and waking up at seven to take photos of the sunrise
Sharing meals with the captain of the houseboat where we stayed in Tulcea.
Before heading to the Danube Delta I spent a nice day with my friend Nelu from Bacau. We went about 25 km from the city to a small village called Magla, where I helped in picking grapes for one day. Like many Romanians Nelu also makes wine in his childhood home in the countryside. The house was small but beautiful and more than 100 years old. It currently mostly stays empty because Nelu's aging mother moved to an apartment in the city after the death of her husband some years ago. In addition to helping Nelu and seeing the village it was a great occasion to have an introduction to the traditional method of winemaking.
Nelu also gave me a suprise present: during my trip to Moldova he had completely cleaned my bike and oiled the moving parts. I'd be lying to say the bike runs as well as new - the age shows in some parts - but it's about as good as it was when I started my trip.
Today I'll continue with Erte towards south, where we should again reach the sea coast, this time by bike. Erte is not very eager to spend money on accommodation so it means more camping than earlier during my trip. On the other hand I have now good company which makes camping nicer than it would be alone.
4 comments
Picking wine grapes in Romania in a lovely countryside - that sounds marvellous! And must taste great later on… :)
2006-10-29 @ 13:26
Yes, it was great. :) I had the opportunity to taste the wine from previous year, Nelu had some left. And actually the juice of the grapes just after crushing them in the barrel tastes really good too!
2006-11-01 @ 20:12
Your adventures sounds really wonderful! Keep on biking! How is the weather there? Warm greetings from a cold Finland ( Helsinki -5, Oulu - 14). Upi
2006-11-05 @ 23:15
The weather has been varying and temperature occasionally below zero here too, although still warmer than in Finland. I wrote a bit about weather in another article just after your question:
http://ajt.iki.fi/blog/main/2006/11/08/autumn_weather_on_the_black_sea_coast
After that there were a couple of nice days in Varna, with the highest temperature during the day climbing over 15 degrees. We even went swimming once. :) The water was still fairly warm, perhaps 16 degrees or so.
2006-11-10 @ 22:37
---
Copyright
Arto Teräs
<ajt@iki.fi>
, licensed under the
Creative Commons Attribution-Share Alike 3.0 Unported License
. (Unless otherwise mentioned in individual photos or other content.)