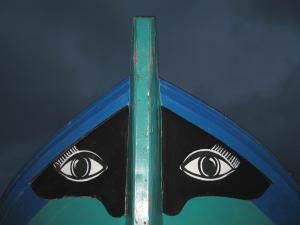 A couple of days after leaving Varna, a November heat wave arrived in Bulgaria and we were enjoying 20 degree and even higher temperatures for a few days. By accident we got also a holiday apartment near one of the most famous beaches to match the weather.
Both Bulgarian and Romanian parts of the Black Sea coast have plenty of beach resorts which attract a large number of tourists during the summer and become almost deserted in the winter. Especially in Bulgaria investors seem to believe that more money is still waiting for takers. Hundreds of new hotels, villas and apartment buildings are being constructed and roadsides are cluttered with advertisements of the real estate companies.
We had just decided to take a look at the beach at a resort called Sunny Beach, when a friendly Bulgarian couple in their fifties came to talk to us. They were fascinated about our trip and invited us to stay at their place if we had time. Well, we had. :) It turned out that our new friends who lived in Sofia had recently bought not only one but two holiday apartments in a nearby apartment complex and we were offered to borrow one of them. So after three nights of camping we had like a package holiday weekend: beach, sunshine, swimming, short walk to a shiny new two-room flat with all the modern comforts. Just the crowds were missing.
Actually better than the beach at least at this time of the year was the historic town of Nesebar, which was also just a short walk from Sunny Beach. Nesebar is famous for ruins of ancient churches built between the 6th and 14th centuries. Old wooden and stone houses along narrow cobblestone streets gave it a fairy-tale town feel, especially now during off-season when it wasn't filled with tourists. We also loved the small port full of bright colors: nicely painted fishing boats floating next to the graffiti decorated pier. The picture I chose for this blog entry is a front view of one of the boats at night. As the sugar on top, in a restaurant in Nesebar we tasted superb grilled bluefish, the best fish meal during the whole trip this far.
After Sunny Beach and Nesebar just 20 km along the coast we found one of the best camping places on the trip. It was on the sea shore less than a kilometer from the main road, but nicely hidden so that we didn't need to worry about getting unexpected visitors. The sea had carried plenty of loose pieces of wood on the shore, so we made a campfire and sat around it listening to the sound of waves hitting the nearby rocks. The holiday apartment had been nice, but camping at that place still felt more like a traveler's way to live. We had even one more guy to chat with: another Lithuanian friend who traveled five days by bus and train to meet erte.
Yesterday we arrived in Burgas, walked around in the city a bit and went to a salsa party in the evening with a local Hospitality Club member. The city tour itself was not terribly interesting (except for the seaside park and the party, which were nice) but we met Emile, a 51-year old Belgian cyclist who's also on a long tour. So now we are three, heading towards Istanbul together.
No feedback yet
---
Copyright
Arto Teräs
<ajt@iki.fi>
, licensed under the
Creative Commons Attribution-Share Alike 3.0 Unported License
. (Unless otherwise mentioned in individual photos or other content.)