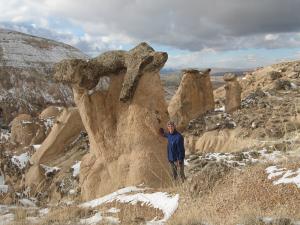 I decided to spend Christmas 2006 in Cappadocia, central Turkey. It's an area where volcanic activity long ago created a bizarre landscape, and people have later contributed to that by digging an incredicble number of cave houses, churches and other holes in the soft rock.
Some of the cave house complexes are organized as museums. They were certainly interesting, but still better was to explore those which were just scattered around the edges of villages or waiting for visitors in the middle of nowhere. I enjoyed climbing on top the hills about five kilometers from the town of Ürgüp and admiring the landscape which had just been covered by a thin layer of fresh snow. Descending on the other side I arrived to a forest of funny towers and stone mushrooms, shown in the picture on the right.
It was funny that I was a few thousand kilometers south from my homeland but it was colder than in most parts of Finland. Temperature in Cappadocia was generally a few degrees below zero, at nights dropping to -10°C and below. On Christmas eve and day the ground was still bare, snow arrived in the morning of December 26.
My Chrismas eve dinner was Turkish food at a local restaurant in Ürgüp with Yuko, a Japanese friend whom I'd met earlier in Istanbul. After some soup and salad we ordered the local speciality Testi Kebab without really knowing what we're going to get. It turned out to be a pretty tasty meat and vegetables stew cooked inside a closed clay pot, which was broken in front of us to release the food from inside. The local red wine wasn't that great, white one which we had with our starters was better. For the dessert we had a plate of baklava (Turkish sweets) and tea. It was a nice and relaxed evening.
I celebrated Chrismas also by staying in a slightly better than usual (although not exceptional) hotel and going for a soak and massage in a hamam, a Turkish bath, on Christmas day. Most of the presents and cards which I'd sent from Istanbul didn't arrive in time, but I called my family and grandparents to say hello. My own best Christmas present, however, was the visa to India, which I was able to finally pick up at Ankara on December 29th.
1 comment
Comment
from:
roberta murphy
[Visitor]
These formations look strangely like some sort of sacrificial tables..giant bodies frozen in time.
2012-11-14 @ 04:35
---
Copyright
Arto Teräs
<ajt@iki.fi>
, licensed under the
Creative Commons Attribution-Share Alike 3.0 Unported License
. (Unless otherwise mentioned in individual photos or other content.)