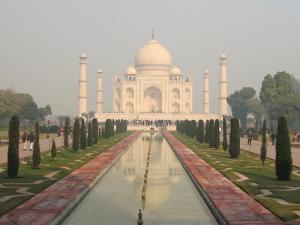 Last Tuesday I took a train to Agra to see the Taj Mahal. It's a memorial dedicated to the favourite wife of Shah Jahan, who was the ruler of the Mughal empire during years 1628-1658. The picture on the right is a classic view of the front facade, a shot taken by nearly every tourist, now me too.
I had actually expected the building to be bigger than it actually was. Of course it wasn't small, but it wasn't enormous either. Perhaps the reason for imagining it being yet bigger is that pictures of Taj Mahal often have a kind of ethereal feeling, which is a natural result of a layer of mist and fog usually surrounding the monument. In most cases that would result in dull looking photos, but Taj Mahal seems to be suprisingly photographic.
The white marble was magnificent and as an engineer I liked the symmetry of the construction. However, I didn't feel the same kind of sheer admiration as in a couple of other great buildings in the world, for example Hagia Sophia in Istanbul, Turkey and Todai-ji in Nara, Japan. Taj Mahal could have it's virtue in more subtle beauty, but the surrounding garden fell a bit short to achieve that, and the river behind the monument was ugly in all its dirtyness. As a result Taj Mahal fell to the "Nice to see" category without creating an everlasting image in memory like the best moments during my travels do.
I wrote in my previous post that life in India is cheap for a westerner. Entrance fees to monuments and museums are an exception: foreigners are usually charged 10-30 times what the locals pay. For example entrance to Taj Mahal was 750 rupees, which is 13 euros at the current exchange rate. Most other monuments I've visited this far have been 250 rupees, except temples which are generally free. On one hand I do acknowledge the need to keep the fees low enough for Indians while collecting extra bucks from rich tourists in order to contribute to the maintenance of the sites. On the other hand it feels a bit awkward when the entrance to a typical historic site costs about the same than a modest hotel room in central Delhi, or all the meals and transport combined for one day.
The trip to Agra allowed me also to experience a bit of train travel in India. Trains here have several different classes, something for every budget. On the way to Agra I took the A/C Chair class which is in the middle of the range, and for the return trip opted for the cheapest second class, although with a seat reservation. The A/C Chair class was fairly similar to second class travel in Finland, while the Indian second class actually overcame my expectations.
I was prepared for an unpleasant experience in a crowded and cramped car, but it wasn't too bad at all. Everybody had a seat, people seemed generally happy, the car wasn't too dirty and above all it felt like being there, among ordinary lively folk, traveling. Vendors walked back and forth shouting and offering snacks and tea (which was very tasty, by the way) for very reasonable prices. It was a bit sad to see a small boy, perhaps ten years old, cleaning the floor and begging for alms. However, as he was doing passengers a real favor they were also rewarding him more often than beggars in general, so even that scene was less depressing than other homeless kids on the city streets. Personally I prefer to donate food rather than money so I gave the boy a banana.
The price difference between the two trips of equal distance was fourfold. The train to Agra was a special express where also breakfast was included, normally A/C chair class apparently costs about three times the second class ticket. As even first class passengers need to endure the same slightly chaotic train stations where rats run back and forth between rails, I don't feel the added comfort is really worth the extra rupees. Of course this is only based on a single short trip and the experience might differ on another day. The second class cars may get very crowded as it's also possible to travel without seat reservation (although I'm not sure if you can then be in the same car than passengers with reservation). Especially on overnight journeys and during hot days the air conditioning in the better classes might come handy. However, based on my first impression I'm quite likely to choose second class again.
2 comments
train stations where rats run back and forth between rails : That's not very surprising. You don't need to go to India for this : Rats are fairly common between rails in the subway in Paris too (as we also do have have cicadas/locusts). :o)
2007-01-19 @ 11:53
Yeah, I didn't consider it that bad either. The train stations are not that different from European ones, perhaps slightly more chaotic (the new fancy electronic displays might not show your train etc…) but you can always get around by asking people. In India it's fairly easy to find people who speak English, at least in cities.
2007-01-22 @ 17:15
---
Copyright
Arto Teräs
<ajt@iki.fi>
, licensed under the
Creative Commons Attribution-Share Alike 3.0 Unported License
. (Unless otherwise mentioned in individual photos or other content.)