Guest of honor on the Republic Day of India
Posted:
2007-02-01 18:12:49
, Categories:
Travel
,
India
, 701 words
(permalink)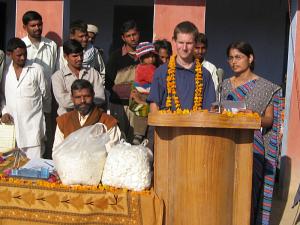 In the afternoon on January 25th I arrived to a small village called Narhaith. A few highschool students started talking to me and brought me to the primary school of the village. There I was warmly welcomed by two teachers, Mr. Dinesh Kumar and Mr. Ramdang Pti. They offered me tea and fruits and told that next day there would be a celebration of the Republic Day of India. I had actually heard about the Republic Day in Delhi but already forgotten the date. When I said that I'd be happy to stay and see the celebration, the teachers were excited and said that I'd be the guest of honor in their program.
During the next few hours I was taken to a local temple, given a tour in the village and treated to a tasty dinner in one of the village homes. After some rounds of Indian rum (Old Monk, fairly good actually) and local "wine" it was about ten in the evening and we returned to the school. I was given the task to write a speech which one of the high school students would then translate to hindi. I took a fairly conservative approach, explaining who I am, telling about the warm welcome I received in the village, then congratulating India on the Republic Day and wishing peace and happiness for everybody. Obviously I was unable to check the translation, but it looked good. :) Around midnight we went to sleep on the floor of one of the school rooms. People were very curious about my strange western things such as my sleeping bag and my headlamp.
The program started at nine in the morning by singing the Indian national anthem and raising the flag. Then there were a few speeches, some songs performed by children and two short dance performances. As the guest of honor I was given two flower necklaces and a chair behind the table in front with the teachers and other respected people while the school children were sitting on the sand field.
After the program Dinesh invited me to his home, he was actually living in another village away from the school. I accepted the invitation and rode my bicycle 15 kilometers back the road I had just taken the previous day. There I got the full Indian experience of staying in a village where everybody knows each other. Dinesh wanted me to individually introduce myself to every relative and friend of his - and I can tell you there were many of them. ;)
One of the particularities of Indian culture is that traditionally the guest eats first and only then others can start. They'll give me food and everybody will sit around watching me eat. I'm a slow eater and they'll keep adding more to my plate until I've several times said that I'm full, so it takes quite a bit of time. Personally I would prefer that we'd all eat together, but naturally I don't try to fight against the local culture. In modern families this is changing and eating together with the guests is becoming more common.
Before Naraith I stopped for one day in the Sariska national park. Just upon arrival I met two Canadians who had a car and driver (in India you usually rent a car with a local driver) and we went to the park together. We saw lots of monkeys, deer and peacocks but were also lucky enough to spot one leopard. It was a fairly short sighting so I didn't get a photo but there was no doubt that it was a leopard. Also the surroundings of the park where I could ride my bicycle were pleasant and full of animals: especially monkeys liked to play by the roadside.
A few days ago I finally arrived in Jaipur. It's again a big city of several million inhabitants and some interesting places, I'll write more about it later. Riding from Delhi to Jaipur took several days more than I expected, but spending time in the villages was certainly worth it. As a Romanian guy whom I talked to in Cluj said: "More important than to travel in India is to be in India". I agree with him.
3 comments
Hei Arto, tosi hienolta kuulostaa tuo sinun matkasi! Olen mielenkiinnolla lukenut blogiasi - kuulostaa upealta, kuinka ihmiset Turkissa, Intiassa ottavat tuntemattoman avosylin vastaan. Niin kai se on, että avoimin mielin kokee ennaltaarvaamattomia asioita. Tsemppiä! Saara
2007-02-02 @ 09:49
Comment
from:
Pirkko Teräs
[Visitor]
Hei Arto, Olipa taas mielenkiintoista lukea matkasi edistymisestä. Jos kohdallesi osuu paikallisia käsitöitä/ kansanpukuja, olisi mukava nähdä kuvia. Hyvää jatkoa, terveiset myös Lasselta! Pirkko
2007-02-04 @ 21:10
namaste…. seem facinating experience.how long you travelling for? I am also in india for a while working in mumbai…. french in mumbai.. Good luck for travels steph
2007-04-28 @ 13:56
---
Copyright
Arto Teräs
<ajt@iki.fi>
, licensed under the
Creative Commons Attribution-Share Alike 3.0 Unported License
. (Unless otherwise mentioned in individual photos or other content.)