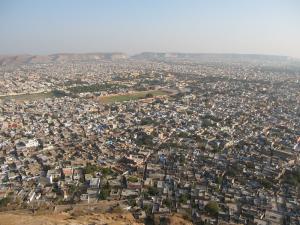 I spent four and a half days in Jaipur, the capital of Rajasthan, and left the city with mixed feelings. It's a big and busy city but certainly more pleasant to walk around than Delhi, has forts and temples on the hills around the city offering great views and becomes full of positive energy at the time of a good festival. I had the chance of encountering there my first fellow bicycle travelers in India, a couple from Switzerland and a guy from Andorra. On the other hand, Jaipur is also a city where the jewerly mafia is having fun in nightclubs while homeless children are begging for food on the streets.
My favourite place in Jaipur was the Nahargarh fort, situated on top of a hill in the northern part of the city. It was high enough to escape the noise and dust but you coild still hear how the city hums below while admiring the view over the rooftops. The ruins of the fort and the more recent palace section were also worth exploring and not packed with tourists.
The Valley of the Monkeys with several temples in the east had an equally attractive location in a valley just behind a small hill range. However, it was already too popular with visitors and had become a money-making exercise. It's customary to make small donations in temples and I also do so fairly often, but when priests start requesting larger sums just after I've put in a small note it doesn't make me feel good.
Third monument worth visiting was Jantar Mantar, an ancient observatory in the city center built during the first half of 18th century. Many of the instruments were for measuring star movements and the exact method of how to interpret the readings was not obvious, but they were beautiful! It was fascinating to see a marble sundial large enough to reach the precision of seconds rather than minutes.
My best experience in Jaipur was participating in the Muharram festival. It's a muslim festival commemorating the date prophet Mohammed's grandson died. Jaipur has a large population of muslims and many hindus are flexible enough in their habits to join the celebration too, so it filled the streets with great vigor. Although the festival was modeled to commemorate a funeral, on the street it looked like a fairly joyful event. Several hundred handmade floats were carried through the center to be disassembled and put to big holes in the ground beside the main mosque at the outskirts of the city. Groups of drummers accompanied the floats stopping in front of spectators to show their best talent and collect some tips on the way. Again foreigners were warmly welcomed: we (I was with two Canadians that day) were invited to the doorsteps of a shop for the best view and offered a chance to participate in the drumming too.
The less pleasant face of Jaipur was that it was hard to tell whom you could trust there. In two separate cases probably by two completely separate groups a friendly encounter of a local led after some time to shady business suggestions being made to either me or to my friend. Bumping to the same people again on the street after cutting contacts made me want to get out of the city as soon as possible.
Events like this make you think how easily and what kind of personal information you give to strangers on the street and in the Internet. About one month ago I read an article warning about divulging too much private information (focusing on social networking websites) and the fairly different Slashdot response where several readers argued that the young Internet generation knows and lives with it, pointing out also positive aspects. While I've been personally fairly open and would like to keep it that way I also strongly support the right to privacy for those who choose a different approach.
4 comments
guys jaipur is really awesome it rocks.i have a keen desire to see jaipur. i didn't ever go there
2009-02-15 @ 17:02
Comment
from:
Jan Heitz-Feinken
[Visitor]
Dear Arto, I don't know how much time you have spent in India, but I feel that your judgement towards it is narrow. You criticize Jaipur for having a wealthy (albeit corrupt) contingent while also having a population of impoverished, yet you criticize them for making tourist attractions into profitable exercises. Furthermore, this phenomena is not specifically found in Jaipur. Most everywhere you go in India, you will find the absurdly rich as well as the absurdly poor. In reference to your comment on people whom you can trust in Jaipur, I have a question for you: who can you trust on the streets in any city in this whole world? Due to the fact that you are a foreigner, untrustworthy people or shady characters will seek you out because they think you are a.) absurdly rich (like the jewelry mafia nightclubbers) and b.) highly gullible/trusting. Jaipur is a beautiful place with beautiful people. I'm sorry you didn't have the foresight to see beyond its corruption and the opportunity to meet more of the honest and hospitable locals. Sincerely and Disappointed, Jan H-F

2010-08-29 @ 09:57
Dear Jan, Thank you for your comment. I spent 3.5 months in India during my trip and greatly enjoyed my stay. Many wonderful people were so kind, honest and hospitable that I could only be amazed and grateful for having the chance to meet them. However, in my case Jaipur was the city where things didn't go so nicely. It doesn't mean that everybody in Jaipur would be corrupt and I'm sure many visitors have had and will have a great time there. Still, what I wrote was a honest account of my own experience, and I think it's also important to write about these less pleasant moments. Please see the
India category
in this blog to get a more balanced view of how my overall experience was in the country. Finally, I would like to say a few words about trusting people on the street. I believe there are so many friendly people out there to meet and so much to learn from them, that I want to be open and receptive instead of being scared and turning them away. I try to avoid obvious scams (usually they are easy to detect) and step back if things seem to go wrong, but otherwise the default for me is to trust, and not trusting is an exception. Perhaps it sounds naive, but this approach has really made my life better and helped me to see how much good there is in the world. Regards, Arto
2010-08-29 @ 20:09
Dear Arto, I was searching something else on google.. found your blog accidently! I am a local resident of jaipur. sorry to know about your experience. It seems you got a bad company here.. Anyway, did you visit Amer fort, City Palace, Albert hall?
2010-10-23 @ 13:48
---
Copyright
Arto Teräs
<ajt@iki.fi>
, licensed under the
Creative Commons Attribution-Share Alike 3.0 Unported License
. (Unless otherwise mentioned in individual photos or other content.)