Watching monkeys in Ranthambhore and Bundi
Posted:
2007-02-18 08:11:42
, Categories:
Travel
,
India
, 697 words
(permalink)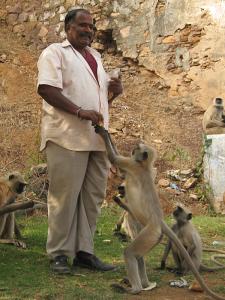 After Jaipur I rode 160 km in two days to Ranthambhore, a national park famous for its tigers. The only way to access the park (at least the only officially permitted way...) was in a jeep or an openroofed bus called Canter, so I also booked a three hour safari in one of them. Unfortunately the tigers didn't show up that time, the most we saw of them were pawprints in the sand. Similarly to Sariska, deer, peacocks and monkeys dominated the fauna, with the addition of a few antilopes. The landscape was also beautiful featuring hills, rocks and ancient trees. Just outside the park entrance it was possible to climb on top one of the hills to explore fort ruins and visit temples. It was interesting to follow the monkeys climbing in the trees, eating fruit and taking care of their babies. You had to be careful though, as they were not afraid of people and could come to grab food and other items even from your hands or from bags.
About 120 km west of Ranthambhore lies a town called Bundi, where I stayed for six days. Along with Alwar and Sariska it became one of my favorite places in India during this trip. Pittoresque old houses lined the narrow streets of the old town and surrounding hills offered places to enjoy great views in solitude. The town was touristic enough to offer a range of guesthouses, restaurants and Internet cafes to choose from, but shop owners and others offering their services were less pushy and generally friendlier than those in the more frequented places like Delhi, Jaipur or Agra.
Perhaps the most well known attraction of Bundi is the Garh Palace, which looked great from the outside and had beautiful wall paintings inside. Up from the palace on top of the hills were fort ruins which were much less maintained: one had to occasionally go through bushes or climb small walls to get the best views. At the fort, tourists were few but monkeys numerous and sometimes protective of their territory. I picked up a stick from the ground to be able to fight back in case of an attack, fortunately I didn't have to use it.
Back down in the old town it was fun to take peeks into the narrow alleys which started from the main street. Most of them were dead ends but had interesting views of the old houses. The only clearly unpleasant thing was the lack of a proper sewage system. Many houses released dirty water and flushed toilets directly to open ditches which carried the waste slowly downhill by the streetsides.
I rarely mention any particular hotels by name but in Bundi I can warmly recommend the Hadee Rani guesthouse, which was everything a guesthouse should be. It was a 350-year old haveli, a typical old house, but had been renovated and opened as a guesthouse less than a year ago. The whole place was beautifully painted and decorated in hindu style, there was a personal touch to every room and even the smallest one had a sympathetic mini temple in the corner. You could climb on the roof terrace to have a view towards the hills or to watch stars during the night. The family running the place cooked great food and was generally nice and helpful, ready to engage in conversations but also understood privacy, which is not always the case in India. I just hope they'll continue the same way also after the place gets included in popular guidebooks. ;-)
I would have probably stayed in Bundi still longer but two things drove me away: the family of Hadee Rani left for a marriage party in another city closing the guesthouse (I moved to another which wasn't so good), and more importantly I had a chat with an old friend who was an exchange student in France at the same time than me. A short moment of planning, a call to confirm that the timing was suitable, and I booked a ticket to travel 700 kilometers by train to meet him. It has been again a different and fascinating experience, but I'll save that for the next time.
5 comments
Hi Arto Glad to hear you have yet survived your bike tour of India. We bike a lot around here, but India…that would be another proposition….Guess you stick to the back roads…..only holy cows and fast buzzards can survive on the main roads…. Upon returning to Delhi, following our dusty trip of Rajashtan (including neat safaris in Rathambore…and Siriska…), asked around for a peacefull place near the mountains to spend our last week in India. Rishikesh was the immediate answer!!!! Rewind almost forty years (to 1968 to be exact….a bit before your time…) Place was put on the world map as the Beatles, at the height of their popularity, decided to take a couple of months off to chill it out through transcendental meditation in their favourite Yogi`s ashram…. We adored the town. Ganges, still unpolluted, (and no cadavers yet….)springs from the mountains. Ashrams and yoga centers galore. Hub for trekking adventures and white water rafting. All pics turned out ok, so you can delete those on your camera. Thanks for the back up. Send me your E-mail (I lost it of course…..), should you like to see a couple of pics of the place. Strawberry fields forever….. Cheers
2007-02-26 @ 03:13
Hi, friend Bundi is a small town near Kota. Bundi was the capital of Hadoti region. Bundi is 36 km from Kota is and is one of the unexplored cities with a rich historical wealth. Once a part of Kota, it was ruled by the Had Chauhans- an offshoots of the famous Chauhan clan who ruled Delhi and Ajmer.
2007-10-11 @ 17:09
Hi Rehan,
Thanks for the additional information. Yes, Kota is indeed the closest city. For most visitors it's probably convenient to take first a train to Kota and then catch a local train, bus, jeep or some other vehicle to Bundi.
2007-10-12 @ 01:28
Comment
from:
Sarah Collin
[Visitor]
The monkeys are the best treat of the vacation. Went there and they stole food from us, didn't expect them to be that used to strangers and tourists. Nice post, reminded me of the trip in the 90`s.
2010-11-23 @ 14:13
I saw my first tiger in the wild at Kanha and Bandhavgarh National Park. It was an unforgettable sight, magnificent in every way it even gave us a little roar. It is unfortunate that you did not get to see one on this journey. Maybe on the next one. Good luck.
2010-12-09 @ 03:02
---
Copyright
Arto Teräs
<ajt@iki.fi>
, licensed under the
Creative Commons Attribution-Share Alike 3.0 Unported License
. (Unless otherwise mentioned in individual photos or other content.)