India from the back seat of a white Hindustan Ambassador
Posted:
2007-02-26 19:45:29
, Categories:
Travel
,
India
, 785 words
(permalink)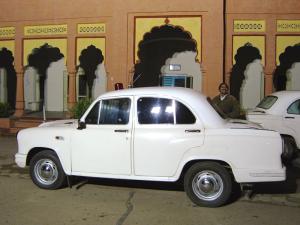 In Bundi I decided to take a train 700 km up north to meet Ankur Garg, an old friend who was exchange student in France at the same time than me. Ankur had mentioned in an email that he now had a senior position in the government, but I didn't pay too much attention to that. However, soon it became clear that in addition to meeting a friend I would be treated to a whole new kind of experience in India.
The adventure started already in Kota, a medium-sized city in Rajasthan, conveniently located along the main western railway line and near Bundi. Ankur Garg had arranged that I could leave my bicycle there. I got his friend's phone number, and upon calling was asked to ride to the Circuit House, which turned out to be an old palace converted to a government guest house. I was guided to a room where I could take a shower and rest before my train would leave; I had a ticket to an overnight train the same evening.
Later in the evening my bicycle and part of my luggage was transferred to Ankur's friend's garage. When it came time to leave, I had a car and driver waiting to take me to the railway station. As most of the goverment cars, it was a white Hindustan Ambassador, shown in the picture in front of the guesthouse. An observant reader may note that it also has a red light on the roof, indicating a VIP car.
When arriving to Chandigarh it got even better. Now there was not only a similar white car and driver but also a man in police uniform who would escort me to the car. We drove to the government guesthouse of Chandigarh, occasionally using the blue lights and siren when normal honking of the horn wouldn't be enough to make clearance. At the guesthouse I was led to a two room suite, guided how to use the room service and introduced to my personal servant...
Oh yes, then I finally met my friend Ankur and his wife Swati, who had both been busy first at work and then meeting some relatives. We could compare how different paths our lifes had led us to since the time together at INSA in France. While I had continued with computer science, Ankur had abandoned electronics after graduation and taken a series of exams to be selected as an officer in the Indian Administrative Service, IAS. There he had met his wife, who was also an IAS officer.
Almost half a million people try the first IAS exam every year, and after three rounds of selection including additional exams and an interview 35 of the candidates are chosen. They go through two years of hard training and after that are appointed to be in charge of various goverment offices across the country, a couple of years at a time, and later high level government functions in the capital. The salary is a decade lower than the same people would earn in the private sector, but benefits, respected position in the society and a network of IAS friends around the country more than make up for it.
After the overwhelming experience of being a government guest we spent some nice time together without the official side, including a relaxing weekend at Ankur's parents' home in Patiala, some 50 kilometers from Chandigarh. There we sat out in the garden enjoying the sun and cracked jokes around the dining table. We were also just in time for the Patiala Heritage festival so I got a chance to hear some Indian classical music. In Chandigarh I must mention the fantastic Rock Garden, an art park constructed entirely from rocks, stones and various kinds of waste material.
After Chandigarh I took a train back to Kota via Delhi, picked up my bicycle and boarded another train further south to Mumbai. Getting the bicycle transported was quite a lot of hassle, but it eventually arrived 12 hours after me in another train with minimal damage. Sleeper class for overnight trains was exceptionally good value, by the way. Indian Railways manages to pack 72 passengers in one wagon while still giving everyone a comfortable place to sleep. As an example, 450 kilometers from Delhi to Kota cost only 204 rupees (about 3.5 euros). For Kota-Mumbai I took 3A class, which cost almost triple compared to sleeper, but only noticeable differences were air conditioning, curtains for the windows and provided bedsheets/blankets (in sleeper class you need to bring your own). Perhaps worthwhile during hot summer season, but in winter I'd advice either traveling in sleeper class or splurging for first class, which should offer real additional comfort — haven't personally tried that yet.
No feedback yet
---
Copyright
Arto Teräs
<ajt@iki.fi>
, licensed under the
Creative Commons Attribution-Share Alike 3.0 Unported License
. (Unless otherwise mentioned in individual photos or other content.)