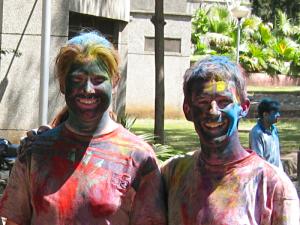 On Sunday I had the exhilarating experience of playing Holi. I got carried to a mud pool, soaked with buckets of water, painted all over with dozens of colours and had extraordinary fun the whole time. Due to apparent risks of carrying a camera in such event I don't have any photos of the best moments, but on the right you can see how I and my friend Helena looked like after the play.
Holi is called the festival of colours, marking the end of winter. It's a two day event. Bonfires are burnt in the evening of the first day, symbolizing the triumph of good over evil. The main celebration begins in the morning of the second day, when people pour colour powders, paints and coloured water on each other, commonly called "playing Holi". Often friends play together but bypassing strangers are not saved either. For more details, special Holi foods and local varieties of the festival check out holifestival.org which tells all about it.
Holi is celebrated with greatest enthusiasm in North India, but the large student population in Pune also knows how to have fun. I joined the party with Helena, a Finnish girl whom I also had met first time at INSA in France — already the third INSA friend in India during just a couple of weeks. She was doing part of her research in the University of Pune so it was a natural choice to celebrate the festival there. Dressed in white T-shirts we had bought specifically for Holi we stepped out of the guesthouse around ten in the morning.
It was rather quiet on the campus but already after encountering the first two people we had a fair amount of colours on us. Then we had water war for a while with nearby kids, getting at least as wet as they were. However, the real fun began after spotting a group of students singing and dancing in front of the bioinformatics department. From their outlook you could already guess that it was going to be the full treatment...
They greeted us in the friendly Holi way: smearing colour on our faces with both hands, hugging and wishing "Happy Holi!". After the welcoming hugs someone asked in a playful voice: "You want to see real Holi? ;-)". A moment later we found ourselves in a small mud pool where apparently all our hosts also had been once. That gave a good base paint for our clothes, so we continued by applying more colours to make it look better, singing and dancing on the lawn. As the time passed more people came and were equally dragged into the group.
In some places Holi celebration is apparently nowadays a kind of super soaker and water balloon war, but in this group there wasn't any competition. Everybody readily shared their colour powders and seemed to be as happy of being painted than painting others. Occasionally there was a colour attack on someone trying to run away, but it was part of the game, all done in good spirit and generally friendly way. If someone really didn't want to play, the wish was respected and they were let to leave with just some colour on the face — but at least a little bit was the rule of the day. Although it didn't look like it, people also surprisingly well avoided spreading the colours to the eyes and mouth where they would be harmful or at least unpleasant. It was like traffic in India: looks chaotic but normally nothing bad happens. :-)
After a couple of hours of playing bhang was ready. Bhang is a drink prepared specifically for Holi, using milk and a variety of dried fruit, spices and herbs. There isn't normally any alcohol in it, but depending on the chef it may include some special kinds of herbs. ;-) We were about to find out how was this particular bhang, but Helena's lab mates came and we went away to continue playing with them tasting just a small sip. Maybe it was safer that way, but that also leaves still something new to try next time. After all, Holi alone is already a good enough reason to come to India again. :-)
3 comments
In fact, as a friend of mine pointed out, the drink mentioned in the last chapter is often called thandai, and bhang is the special ingredient. However, the use of terminology seems to vary, even on the
holifestival.org site
which includes some sample recipes.
2007-11-10 @ 03:55
Comment
from:
SWAMINARAYAN
[Visitor]
Holi is occasion in that time all friends are enjoyed in truly, I lost this for past 11 years due to I settled in Puducherry. In my chilled wood day I enjoyed in this days, because school is holiday we are using lot of colors to made RANGIN to Others, who are known/ unknown person to us. By SWAMINARAYAN.A
2008-06-18 @ 19:50
Fine Post. I searched the entire internet for informations like u shared it on this post "The joy of Holi". Thx a lot, it had helped.
2010-03-01 @ 15:48
---
Copyright
Arto Teräs
<ajt@iki.fi>
, licensed under the
Creative Commons Attribution-Share Alike 3.0 Unported License
. (Unless otherwise mentioned in individual photos or other content.)