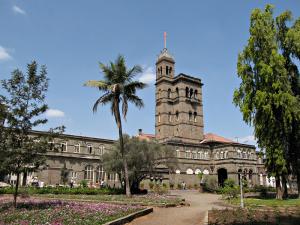 I came to Pune to visit my friend Helena, but as I was at the university campus it felt like a good idea to get in touch with people of my field. A couple of meetings were quickly arranged and it didn't take long before I was invited to give a guest lecture about grid computing, which I had been working on during my three years at CSC. I accepted and set aside a couple of days to catch up with the latest news and prepare a talk.
The lecture was organized at the Computer Science Department, with students from a couple of other departments joining as well. There were about 60 people present, and their many good questions assured that at least part of the audience was interested in the topic. The announcement and my slides are available online. The following day I went still a bit more into technical details with people at the Centre for Development of Advanced Computing, which resembles CSC in Finland, and heard what they are doing in India.
The discussions gave me also some perspective into the working culture in Indian universities and research institutes. It is easy for a foreigner to get involved as students generally speak good English, are welcoming and eager to meet new people. I didn't notice the Japanese kind of social pressure to not leave work before the supervisor, but at least Helena's friends in the National Centre for Cell Science did very long hours and spent also weekends in the lab. It might have been partly related to their field though, as they needed to check the results and take further actions at specific times after starting an experiment. For example the CS deparment, where you might expect nerds to code all night, got empty earlier in the evening. Organized free time activities and student parties seemed to be rare compared to Europe. A group of friends might decide to go out and you could always find a game of cricket on the fields, but bulletin boards carried job and course ads instead of party posters.
We spent one nice weekend outside the city in the mountains. Sanjeev, the lead scientist in the lab Helena is working in, is an outdoor person so when the lab went for an outing it included some hiking too. We had accommodation indoors, but many people had never slept in a tent and were curious to try. Sanjeev brought two tents and I also set up mine for the first time in India. For me it was more exotic to get a ride on top of a jeep so I tried that in exchange. :-)
Staying in the NCCS guesthouse on the campus was the closest to having a home since June 2006 when I left Finland. There was even a fridge in the room so I didn't have to think in the grocery store which items would get spoiled quickly in the heat. However, today I'm again loading my gear on the bike and returning to nomad life on the road.
No feedback yet
---
Copyright
Arto Teräs
<ajt@iki.fi>
, licensed under the
Creative Commons Attribution-Share Alike 3.0 Unported License
. (Unless otherwise mentioned in individual photos or other content.)