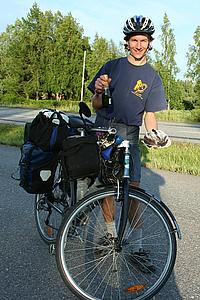 On Wednesday 18th of June, on the way to Åland islands together with my Lithuanian friend Dalia, my bicycle reached 40000 km. Such a happy moment was certainly a good reason for celebration, so we offered it flowers, a cake which looked like a cycling helmet, and a small bottle of sparkling wine. Well, the bicycle actually prefers chain oil, so we helped it by eating the cake and drinking the wine ourselves. It was a small bottle, so we weren't too drunk to ride forwards after the party. :)
I had switched the cyclocomputer to show the total distance already twenty kilometers before the event. When it reached the magic figure, I squeaked the horn, we stopped and had a photo shoot and party on the spot. Very appropriately we happened to be on the King's Road, and there was a bicycle way next to the main road. People in the neighboring house were surely a bit curious what on earth we were doing, but they were too shy to come and ask.
The bike has now been in 22 countries and although it still hasn't traveled around the world, 40000 km is the equivalent distance. I bought the bike in May 2001 and have been riding it since then except for one year while being an exchange student in Japan 2002-2003 (I had another bicycle there). That makes an average of about 6500 km per year. Roughly half of it has been tours and shorter recreational outings, the other half being commuting and other everyday use. Everyday use includes also plenty of icy, snowy, slushy and rainy days during winters.
It's a year 2001 model of Nishiki Hybrid 601, a fairly standard decent quality hybrid bicycle. The frame, handlebar, brakes, gear shifter levers, front shifter, stand and plastic fenders (!) are still originals. Front fork, rims, crankset and pedals have all been changed once, rear shifter and seat twice. It's probably running about the eight chain and sixth rear cassette now, and the third set of chainrings in the front. It has the third set of summer tyres (not counting the originals which were crappy and quickly replaced) and second set of winter tyres. Brake pads and wires of both brakes and shifters have been changed several times. I have a habit of changing the brake wires once per year or at least every second year, even if they still look okay.
The luggage rack in the back is probably much older than the bike itself. I had two aluminum racks which both broke after about 15000 km. After the second breakdown I switched to a sturdy steel rack ripped from an old touring bike in Romania. Despite being slightly rusty, the current rack will probably last much longer than the previous ones. For touring, I've also added rear panniers, a handlebar bag (summer 2005), bar ends, a mirror (changed twice) and two drinking bottles. Last but not least, the bike is equipped with two locks, the cyclocomputer which shows speed and distance, a small funny horn, a seashell from the Black Sea coast and a collection of stickers from different countries.
Many people have asked whether the bike has a name. No, it doesn't, it's simply an old pal. But I just created a small picture gallery for it.
1 comment
Hey thanks for sharing. I'm not a hardcore cyclist, but use it for cycling to school back in my college days. It was fun to feel the speed and wind in my face. :-) I think i got caught by the rangers once for not wearing my helmet (in australia). :-)

2009-10-13 @ 14:21
---
Copyright
Arto Teräs
<ajt@iki.fi>
, licensed under the
Creative Commons Attribution-Share Alike 3.0 Unported License
. (Unless otherwise mentioned in individual photos or other content.)