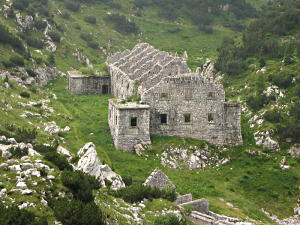 Triglav national park in Western Slovenia has beautiful alpine scenery, but it is also a kind of open air museum of the First World War. I did a five day trek in the southern parts of the park.
After my sightseeing tour in Venice I spent a couple of relaxed days in Udine, Italy. My CouchSurfing host Katia introduced me to the restaurant and community Casa del Campo, where we spent late evenings in a homely atmosphere. I also bought gas for my gas cooker, stocked up on food supplies and spent quite a few hours in front of Katia's computer reading and writing emails. Then I took a train further east to Cividale, hitchhiked to Kobarid, Slovenia and started walking from there the following day.
Climbing with an overloaded backpack wearing sneakers instead of proper hiking shoes was slow. I only made about 1000 meters uphill during the first afternoon. It started raining but I found a small cottage which was apparently sometimes used by shepherds or forest rangers. The door was locked but there was a perfect place for my sleeping bag on the terrace. For a while just before the sunset clouds gave way to the sun which illuminated beautifully the village below in the valley.
In the morning two men arrived with portable mine detectors. They told that old ammunition and land mines from the First World War still remained in the area. Further up the bloody history of the region became more and more evident. On the mountain ridge near the Krn peak there was a monument, rusty shells set up for display and old barbed wire here and there. Inside the Batognica mountain criss-crossed a network of tunnels which had been used as bunkers and ammunition storage. Italian and Austro-Hungarian armies were fighting against each other and eventually the whole peak of Batognica was blown off, making the mountain some 50 meters lower than it originally was. I only went a couple of dozen meters inside the tunnels but a local told me that some hikers had even got lost in them.
I climbed on the top of Krn which offered a superb view in all directions, particularly towards the Krn lake and northern parts of the park. The peak of Triglav mountain, where the name of the whole park comes from, was mostly hiding behind the clouds so I'm not sure if I saw it or not. After taking some photos I descended to the Krn lake and spent the night in the nearby mountain hut. Following morning I continued north-east towards the valley of Triglav lakes (Dolina Triglavshkih jezer), also known as the valley of seven lakes.
The Komna highlands had more remains from the war times. Walls of old stone buildings stood still strong in the valleys, looking like they can still resist at least a few more centuries. Roofs and windows were gone, grass and flowers were pushing out from everywhere there was even a tiny patch of soil. Hiking paths followed old wartime roads. The paths had clearly been constructed with more effort than a regular hiking trail would have been, but the last vehicle had passed long, long ago and now they already blended nicely with the nature.
Camping was forbidden in Triglav, the only officially allowed places to stay overnight were staffed mountain huts. I personally think camping in national parks should be allowed or there should be at least some designated campsites, to make nature accessible to everyone, with or without money. Of course it would have been easy to find nice hidden spots for wild camping, and the hut personnel didn't seem to be too strongly against it. When they asked if I'd like to stay in the hut, and I replied "Oh, I'd prefer to sleep outdoors :)", they'd smile and answer something like "Ah, we know, but you'll have to hide from the Triglav men." Then they'd put me up with a group of scouts or otherwise their most modest offering, two times out of three with alpinist discounts although I didn't have any club membership card to present. Also otherwise the people were very nice and friendly, so I stayed at the huts and didn't camp.
I had originally intended to continue north-east, near the highest peak (Triglav) and descend on the other side, but due to rainy weather I changed my plans. From the hut of Triglav lakes (Koča Pri Triglavskih Jezerih) I headed south-east, coming down at Stara Fuzina. There I washed off the sweat in the Bohinj lake and hopped in a bus to Ljubljana, the capital of Slovenia. The bus stopped in Bled, which is famous for its scenery. After the real mountains it failed to impress me, one hour walk around was enough of Bled.
2 comments
Hi Arto! What a nice adventures you had - and nice stories! Are you already back in Finland or are you continuing gypsying around? I finally did last week the bike trip to Bromarf as we talked about in the spring, boy I was tired after that :)! Perhaps we can do it together sometimes with bikes or with my motorbike. Bonne chance! Upi

2008-08-04 @ 16:53
Thanks for the comment. Yes, I'd love to join you for a bike trip to Bromarf, but I guess that'll have to wait for a while. I'm now in Guca, Serbia. It's a small village completely taken over for a few days by a trumpet festival. I think it's best to stop using Internet right now and head out to the streets. :)

2008-08-07 @ 21:37
---
Copyright
Arto Teräs
<ajt@iki.fi>
, licensed under the
Creative Commons Attribution-Share Alike 3.0 Unported License
. (Unless otherwise mentioned in individual photos or other content.)