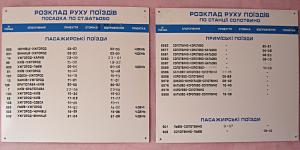 Trying to communicate in foreign languages or without any common language is often challenging but also one the most fun tasks when traveling. In Eastern Europe, the majority of countries have their own languages and Russian is the most widely spoken second one. Unfortunately I don't understand any of them much. In cities it's common to find someone who can speak English, and for all the other situations I carry a phrasebook and try to learn at least a few words in each local language. Drawing pictures and smiling is also always a good option.
Ukraine offered a pleasant surprise: the language I ended up using the most during my three day visit was Japanese. Besides that, I had plenty of opportunities to practise my few words of Russian and non-verbal communication skills as well. Lonely Planet had decided to include neither Ukrainian nor Russian in the Eastern Europe phrasebook, so there was room for improvisation.
After the Rainbow Gathering in Serbia I spent two days in Belgrade and a week in Romania, mainly meeting friends in Timisoara. From there I took a train north to Baia Mare, hitchhiked 70 km further to Sighetu Marmatiei and walked across the border to Ukraine. Border crossing was easier than expected. I had to fill in an immigration card and hand over my passport to get a stamp, but that was it. All done in 15 minutes, including 10 minutes of waiting in the queue.
Solotvyno didn't seem to be a very popular destination for foreigners except Romanians coming across the border for shopping. People were looking at me curiously and a few confirmed what they saw by asking "Turist?". Modern development had embraced the town with an ATM which accepted my credit card and spit out a bunch of hryvnias. Then I spotted railway tracks and followed them to find the town railway station.
I had minor difficulties deciphering the timetable (in the picture) but the station personnel were happy to help. When my understanding of both Ukrainian and Russian turned out to be limited they even wrote the same information in my notebook using beautiful cyrillic handwriting. After a bit of head-scratching I figured out that I was lucky. The train standing in front of the station would leave in two hours and arrive early next morning in Lviv, where I wanted to go. I went to grab some snacks for the trip in the town center and then tried to buy a ticket. "Katastrof, nema electricitet, nema computer" sounded like it could be a problem but fortunately it wasn't. I was advised to simply get onboard and the conductor would issue me a ticket in the train.
The 15 hour, 400 km journey cost less that 3 euros, so I probably got the cheapest or at least almost cheapest available ticket. The "platskartny" wagon was similar to sleeper class in India: open layout featuring basic beds which doubled as seats, no bedsheets. There was a bit more space than in Indian trains and the added luxury of a table between each two lower beds. On the other hand, the Ukrainian train didn't have any fans so it became quite hot inside.
My travel companions couldn't really understand why someone who had zero ability in Ukrainian and very limited skills in Russian would like to go to Lviv. They helpfully advised me that I could change the train near the Polish border and go directly to Warsaw if I wanted. Nevertheless, I stayed in my decision about visiting Lviv and announced that I wanted to learn some Ukrainian before arriving there. Using Russian and Polish I got translations to "Hello", "Thank you", "My name is Arto" and "Where is the toilet" in the local language, and drawing pictures helped to pick up a few more words such as train, car, bicycle, big and small. A ten year old girl was the most enthusiastic instructor and started teaching me the names of all objects which we could find around us. So I also learned how to say table, window and curtain in Ukrainian.
In the beginning the train was half empty but eventually there were almost twice as many passengers compared to the number of beds. The Ukrainians solved the problem by drinking enough beer and making noise until it didn't really matter how comfortable place they had for sleeping. I managed to get some sleep despite drinking only a little. Completely refusing the offered drinks would have been difficult and probably impolite. Luckily they didn't have any vodka. ;)
In Lviv I walked to a youth hostel which had been recommended to me by a CouchSurfing contact who was away and couldn't host himself. In the hostel I met Taka, a Japanese guy who already knew Polish and Russian and was staying in Ukraine to learn one more language. He spoke English too, of course, but was happy to find someone who could communicate in his own language. Taka offered to show me the city so I got a companion and guide for the weekend. We walked around, visited a couple of museums and had dinner in Криївка. It was a funny hidden restaurant which didn't have any kind of sign at the entrance but was full of people already early in the evening.
From Lviv I took a bus to Warsaw, queueing 4 hours at the border to get out of Ukraine, and continued by another bus to Lithuania. In Joniškis I spent a few nice days with my friend Dalia and her family before returning to Helsinki via Riga and Tallinn. I've been back home for a week and a half now. Compared to Ukraine, the temperature in Joniškis and in Finland was about 15 degrees lower and I got a flu. It already seems like a tradition when coming back from a longer trip in warm countries. Perhaps I'll learn some day how to avoid it.
3 comments
Comment
from:
Teemu Kemppainen
[Visitor]
An absolutist friend visiting Russia politely refused offered alcoholic drinks by pointing at his heart and saying "doctor forbids".
2008-09-26 @ 11:22
Sure, I know, it's always possible to refuse alcohol. But I'm not an absolutist, so it wasn't so bad to join for a cup or two. :) I just avoid drinking too much.
2008-09-26 @ 13:01
Comment
from:
stephen dean
[Visitor]
What a surprise to see a photograph of railway timetable on your site. I was there a few months ago as I need to travel between Poland and Romania.Passing through Ukraine is far more exciting than travelling through Hungary and Slowakia.I was very surprised to find how easy it was to pass this border crossing the bridge.I had taken the very comfortable night train from Brasov to Sighetu. Like you I was able to leave my luggage with the station master.I saw that a microbus was leaving for Lviv outside the Maramures restaurant at 1030.This did not look like a comfortable ride although it would get into Lviv bus station at 1830.Lviv bus station is situated miles away from the centre and is a dangerous place-bogus policemen wanting to carry out a foreign currency inspection.So I opted for the train.Ukrainian trains are ok for the price.You just have to know how to operate the water taps in the toilets-small lever inside.Also toilets are locked when train is approaching next station.So don't drink too much of that nice BILE beer before you board.
Lviv is a great place-still undiscovered by the stag-nighters who have ruined Riga and perhaps Krakow.Lots of nice restaurants in the centre where you can sit outside and watch the extremely pretty local girls pass.Best buy for me is the brandy in a bottle shaped like a sabre for about 9euros.If you are travelling onto Poland then you can take bus from bus station-remember outside town-to Przemysl runs several times a day.Otherwise take local train to Mystika and then taxi to border.Avoid queue of Poles just walk past them keeping to channel and smile at Ukrainian border guard who will open the door for you.Minibus from border to Przemysl station.Remember that trains marked P are the cheaper alternative.I can travel from here to Bialystok -not far from Lithuanian border for about 15euros.
I really think that Ukraine is for the more adventerous traveller as they do not speak foreign languages there-I speak a little Polish which really helps.
Stephen
2008-11-05 @ 11:25
---
Copyright
Arto Teräs
<ajt@iki.fi>
, licensed under the
Creative Commons Attribution-Share Alike 3.0 Unported License
. (Unless otherwise mentioned in individual photos or other content.)