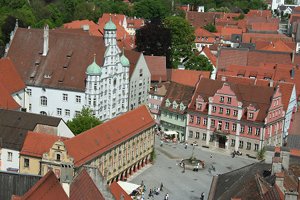 At the end of July I will be moving to Memmingen, Germany to live together with my girlfriend Sandra. I'm planning to stay there until the end of the year and after that we'll see what to do.
Memmingen is a town of about 40000 inhabitants in Bavaria, Southern Germany. It's the smallest place where I've lived this far in my life - all the others were cities with at least a few hundred thousand inhabitants. The closest big city is Munich about 100 km to the east. The Alps in the south are only about 60 km away which is great for hiking.
More important change than the location is that this will be the first time for me to live together with a partner. I've shared rooms and apartments with other students during my student years, but this is of course different. We've been meeting each other for more than a year now but I'm curious to see how the relationship will change when we'll be living under the same roof.
Renting out my apartment in Helsinki was surprisingly easy. I posted an announcement on a web forum and one hour later an old friend of mine answered that he needs temporary housing for his small family because their apartment will have pipe renovation. That's a good deal for both of us: I can leave most of my stuff inside and they can move into an apartment which is already furnished and has all kitchenware + other stuff needed for daily living in place.
I've been discussing with my employer about possibilities of working remotely from Germany. At the time of writing this it's still unsure whether it'll work out but I'm not too worried about it. Whatever the end result will be I'm sure it'll have more good than bad sides in it.
I will probably write more about my life in Memmingen in the autumn. However, before that I will have summer holidays, including a sailing trip, Rainbow Gathering in Finland, hiking and some cycling as well.
3 comments
Je te souhaite pleins d'expériences passionnantes en Allemagne et aussi plein de bonheur avec ta petite amie … qui porte le même prénom que ma soeur jumelle! Merci pour ton blog et bonne chance à vous deux! Amitiés, Gaëtan.
2010-07-02 @ 00:13
I wish you all my best (I hope it went right) to you and your girlfriend Sandra. I hope everything will go well with you and Sandra and you can find your own happiness. I hope we can read later, that what kind of place is Memmingen and we can see a lot of pictures from there. Take your bicycle with you and have a nice trips round of Memmingen. We all will miss you, but that is life. Sometimes you have a lot of friends and sometimes you have to let them leave you. My best regards from bottom of my heart with tears in my eyes Frank

2010-07-02 @ 06:51
Good luck with the moving! :) I am moving to my girlfriend to Poland too, next week :)
2010-07-09 @ 00:23
---
Copyright
Arto Teräs
<ajt@iki.fi>
, licensed under the
Creative Commons Attribution-Share Alike 3.0 Unported License
. (Unless otherwise mentioned in individual photos or other content.)