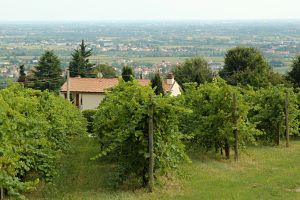 We descended from the Alps to Longarone, a small town near Belluno, in North-Eastern Italy. The high peaks of the Dolomites gave way to lower, grass-covered mountains, then hills, and finally to the flatlands of the Veneto region. The route followed small roads and tractor tracks through vineyeards, corn fields, fruit gardens and small villages. On the way, we had a few wonderful stays with CouchSurfing hosts.
In Longarone we were welcomed by Gigi, Francesca and their family, who had heard about CouchSurfing from an Italian TV program. We were their first guests. They were first a bit puzzled what they could show us as mountains were the most popular attraction in the area and we had just been hiking for almost three weeks. However, we didn't need much sightseeing — a tour in the garden, chatting, relaxing and family dinners including their own vegetables, local cheese and wine were just perfect. We also got good hints which route to take during the following two days.
From Longarone we climbed once more up to 1700 meters and descended to Tarzo. There we stayed two nights with Helio and Lori, a warm and funny Brazilian-Italian couple. With them and their friends we had a tour in nearby Vittorio Veneto old town, followed by more than excellent ice cream in a local gelateria and the most entertaining wine tasting ever hosted by Lori's father, also called Gigi. Helio and Lori didn't speak much English but it didn't stop us communicating in a mix of about five different languages, while enjoying delicious Brazilian food and the friendly atmosphere in their home.
One full day walk later in Spresiano we met Francesco, a guy of about same age than us who had recently come back from a 6 month tour around the world. We all had one thing in common: quitting our jobs to travel at least once in our lives. So it was no wonder we had a lot to talk about. :) Francesco had a lot of ideas about how to change his life and be happy. We might meet him again one day in his small cocktail bar on a quiet beach, where he will mix a drink for us.
After Spresiano we didn't have any more CS hosts and were relying on hotels and guesthouses instead. We also considered sleeping outside, but without a tent or a mosquito net it would have been a bit tricky. In a few places the personnel immediately guessed which trail we were on, probably thinking "Again two of those crazy Germans walking to Venice".
On the flat parts we could have taken exactly the same route by bicycle so it was a good opportunity to compare these two ways of travel. By walking we saw a few more details in the gardens of the houses and it was a bit easier to talk to each other. On the other hand we were limited to about 25 km per day while by bicycle we could have easily covered three times that, without missing much in the scenery or opportunities to communicate with locals. So we sometimes felt a bit silly walking along the roads, but nevertheless decided to go on for the couple of remaining days.
After a total of 26 days of walking (including two rest days) we arrived in Lido di Jesolo, a beach resort located about 20 km from Venice. It was a big contrast to all the other places we had been to on the trip. There were hundreds of hotels and restaurants on a few kilometers of shoreline, and of course thousands of tourists on a beach holiday. On the beach there were sections of sunshades and chairs reserved to each hotel, but fortunately the waterline was freely accessible for all. We walked to the waterfront and took photos in our hiking outfit in front of the surprised beach-goers.
From Lido di Jesolo it was only a one day walk to Punta Sabbione and a half an hour water bus ride to Venice, our final destination. We spent a couple of days exploring the alleys and canals, photographing the colourful houses of Burano and relaxing on the beach before returning home. There was a good feeling about completing the tour, but it was of course not as important than the experiences during the trip.
Overall, walking for four weeks was an interesting experience. The first two and half weeks on the Alps (see parts one and two) were beautiful and the mountains started to feel like home in way I had never felt on shorter hikes. I would do it again, although perhaps carrying a tent and choosing my own route instead of following a book. On the other hand, I don't think it'll be my ambition to walk hundreds of kilometers along roads as some people do. On roads I prefer the bicycle or some other kind of vehicle, depending on the trip.
1 comment
Hey Arto. Nice entries. it seems that you had the most amazing time crossing the beautiful alps. wonderful. I too did a bit of walking in the last weeks, did 8 days in the santiago path in spain. Quite crowded with people and left me with the personal ambition to do a long hike like this one you just did. well done. un saludo grande Julian
2010-09-29 @ 00:54
---
Copyright
Arto Teräs
<ajt@iki.fi>
, licensed under the
Creative Commons Attribution-Share Alike 3.0 Unported License
. (Unless otherwise mentioned in individual photos or other content.)