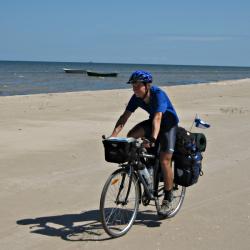 My trip has advanced until Liepaja, Latvia. After Tartu I continued towards south-west, spent one night in Sangaste castle and crossed the border in Valga. There were some very nice places and very bad gravel roads in the Gauja national park on my way to Riga. Mostly the roads were perfectly okay, though.
In Riga airport I met my old cycling friends Mikko and Sami and we've been riding together since then. We spent the midsummer in a camping area in Mersrags. It was actually quite similar to the Finnish midsummer, with a big bonfire built of old boats. Then we continued along the coast to cape Kolka.
The best part was the beach to the south from Kolka. We spent one whole sunny day riding on the beach, occasionally stopping for a picnic or swimming. It was actually much easier than the road would have been, and the scenery certainly beat the roadside 10-0.
We also had our first stays with Hospitality Club members in Jurmala and Ventspils. Greetings and thanks to valmundos and walx! Currently we are in Liepaja, Latvia, and will continue towards Klaipeda in Lithuania, the Curonian Spit and Kaliningrad.
The possibility to leave comments in the blog has been at least temporarily disabled due to excessive comment spam. I'll try to find a better solution later, but meanwhile you're welcome to send feedback simply by email to ajt@iki.fi.
---
Copyright
Arto Teräs
<ajt@iki.fi>
, licensed under the
Creative Commons Attribution-Share Alike 3.0 Unported License
. (Unless otherwise mentioned in individual photos or other content.)