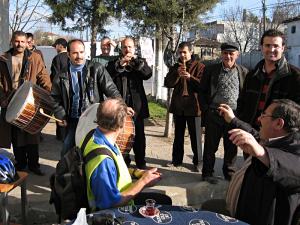 Our last days in Bulgaria were spent traveling slowly along the Black Sea coast until the town of Tzarevo, then taking mostly very small roads until Malko Tarnovo. Erte, the Lithuanian guy, had a small accident on the way which delayed us for a couple of days, but he's okay now. We also met a friendly Frenchman making money with real estate and building his dream house in Sozopol, chatted with an elderly painter in Tzarevo and took photos of horses walking freely on the meadows by the Veleka river. After Malko Tarnovo we crossed the border to Turkey.
This time it was immediately obvious that we had arrived to a different country. Every village would have at least one mosque, from where the imam would raise the call for prayer five times per day. Coffee shops and restaurants were full of men, usually drinking tea and smoking cigarettes. Later we would find out that in bigger towns it was not uncommon to order a beer, too. But even there, you wouldn't see a woman enter a bar, even with her husband. In Istanbul that's possible and even common, we've been told, but we're not there yet.
Our first stop in Turkey was Dereköy, the first village after the border. It was raining when we arrived, and a local restaurant owner invited us to warm up in his cafeteria. After that the son of the sheriff said he could offer us a safe place to camp so we moved to another cafe to have tea with the locals and to wait for the sheriff. Eventually he never arrived but our hosts would not leave us in trouble: we laid our sleeping bags on the floor of the town planning office.
Since then we have been invited for a tea numerous times. Everybody wants to exchange a few words with the strange traveling cyclists, although it's often difficult due to the language barrier. Kids are the best: everyone can ask in good English at least "What's your name" and "Where do you come from". Some of them may also beg for money after that, but especially in villages they surround us simply for pure curiosity. They are also eager to pose for photos whenever they see us carrying cameras. The tea, by the way, is black tea and usually fairly strong, served always in the same kind of small glasses, with two cubes of sugar placed next to the glass.
When we happen to come across adults who speak English or German, they'll certainly ask what we think about Turkish people and whether we believe Turkey will be accepted to join the European Union. People at least in this part of the country are generally very positive towards EU and want to communicate and spend time with us. In Kirklareli a wealthy shop owner took the whole evening and good part of the following day to walk and drive us around in his city. Whatever we wanted to do he would show us the best in town: the best restaurant for lunch, the best shop for sweets, the best cheese and warm milk for breakfast, the best vegetables for the road, all of which were sold by his friends of course. However, the purpose of the tour was not to squeeze out our last liras — instead he went on to offer us a long night of eating and drinking (including a bit of scary drunken driving) out of his own pocket.
Another topic which will quickly turn up in any longer discussion is religion. People are very eager to point out that all muslims are not terrorists and that both christians and muslims believe in the same God, although in different ways. They also want to know what is our religion. A special addition has been the recent visit of the Pope. Turkey itself is interesting as being a muslim country but probably the most liberal and westernized of them, especially the European part of it. Alcohol is readily available in shops, women don't cover their faces when walking outside, and even official school uniforms of young girls can feature short skirts which end above the knees.
In the small village of Poyrali we were invited to join a Turkish wedding. First we were treated to a meal in one of the local restaurants and in the evening we joined the wedding party with a few hundred other guests. It consisted mainly of dancing to traditional music which was played using drums and kind of flutes. In the picture you can see the wedding band practising by playing for us in the afternoon. Surprisingly there were no food or drinks available at the party place, except for raki (a strong alcohol) and cheese which were cheerily offered to us just before the entrance. We were told that weddings normally continue until morning hours, but this time it ended already before ten in the evening. That was probably due to the cold weather as the whole party was held outdoors.
Yesterday we arrived to the Black Sea coast again, I'm posting this in the fishing village of Kiyiköy. We're only about 150 km away from Istanbul but at our current speed of travel arriving there will take nearly a week — accepting all those invitations for tea takes time. :) But we're enjoying it, so there's no need to hurry.
2 comments
Comment
from:
Blagovesta & Nikolay
[Visitor]
Hi, dear Arto & Erte , Ou are verry happy to read sommthing for you & about your traveling after ou see eatc auther in Sany beach . It is verry good dath yuo have a good wether and your feeling is verry nice. All the best & good luc. Blagovesta & Nikolay -Bulgaria,Sofia.
2006-12-05 @ 19:47
it was my pleasure to be with you in the wedding.ı hope you had a funny night.see you again in istanbul.have a nice trip
2006-12-06 @ 14:55
---
Copyright
Arto Teräs
<ajt@iki.fi>
, licensed under the
Creative Commons Attribution-Share Alike 3.0 Unported License
. (Unless otherwise mentioned in individual photos or other content.)