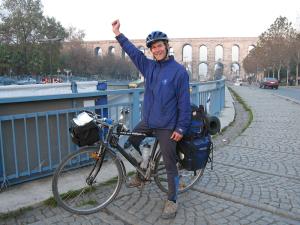 The last few hundred kilometers took time, but now I've finally arrived in Istanbul. Actually it happened already four days ago, but I didn't rush to write in the blog right away.
The first couple of days in the city were spent mostly taking care of practical things such as washing clothes, reading email and checking out visa requirements and transportation options to next countries. I'm planning to go to India, erte is heading towards Northern Africa and Emile will return to Belgium, spending some time in warmer regions of Turkey or Greece first, however.
Getting a visa to India turned out to be a bit more complicated than expected. It took several phone calls and some 90 minutes of queueing to find out what is actually required, but now I'm a bit wiser. There is an Indian consulate in Istanbul which accepts visa applications, but as an attachment they require a letter from Finnish consulate which certifies that my passport is valid and I'm the holder of it. Kind of silly because such a letter would be far easier to fake than the actual passport, but that's what they want. They even showed me an example of a such letter for a French person who had been granted a visa through the same consulate. The Finnish honorary consulate in Istanbul is not authorized to write such a letter and it apparently cannot be handled by fax either, so I need to travel to the embassy in Ankara about 450 km away to get that precious piece of paper.
When traveling to Ankara I'm also planning to visit Cappadocia, an area of unusual natural landscapes and underground cities about 200 km south-east from the capital. I'm naturally also planning to see a bit more of Istanbul, so I will still have something to write before leaving Turkey.
When I started my tour and people were asking how far I'm going to ride my bike, I said I'll go first to Istanbul and reconsider there. Now I'm quite confident that I want to continue, although the countries will become less bike-friendly and I will be using other ways of transportation more than up to now. The total distance from Helsinki along my (certainly not the shortest) route was 6349 km, with an additional 170 km of cycling in Moldova using Serj's bike. Istanbul is my last stop in Europe, Asia begins on the other side of Bosphorus which divides the city in half. I've also already been on the road for half a year now (well, tomorrow to be exact), so it nicely marks the end of the first half of my trip. The second half will be in Asia.
3 comments
Sure, I don't know yet what kind of extra surprises I'll encounter on the way. However, at the Indian consulate here in Istanbul things seemed to be working in a fairly orderly fashion. I came just 15 minutes before the official closing time of leaving visa applications but they accepted all the people which got queue numbers before that hour.
Also, in the forms at the Indian consulate here it was clearly indicated that references in the home country and India are not required for tourists visas. So the only problem this far has been the letter required from the Finnish embassy. First on the phone the person at the Indian consulate said it should state something like Finland has no objections on me traveling to India. Some countries issue such no-objection certificates but Finland doesn't, explaining that it belongs to the scope of civil laws in Finland and the embassy cannot give such letters. However, on my visit to the consulate I got quite clear indication that a letter proving me as the holder of my passport should be satisfactory. I'll see.
I haven't decided yet whether I'll apply for a single or a multiple-entry visa. Probably I only need one entry, but I might try to get the multiple entry just in case. It apparently doesn't cost extra and might come in handy if I want to take a peek in Sri Lanka or another neighboring country and return to India.
2006-12-14 @ 20:59
Comment
from:
erman civici
[Visitor]
Happy new year.I'm verry happy to read something for your travelling and about you it was my pleasure to be with you in Sirkeci bicycle shops,you were buy new chain and etc.i hope you had a funny days in istanbul. you are always call me in istanbul whenever need help to bargaining :).see you again wherever in the WORLD.have a nice trip. erman civici
2007-01-04 @ 08:58
---
Copyright
Arto Teräs
<ajt@iki.fi>
, licensed under the
Creative Commons Attribution-Share Alike 3.0 Unported License
. (Unless otherwise mentioned in individual photos or other content.)