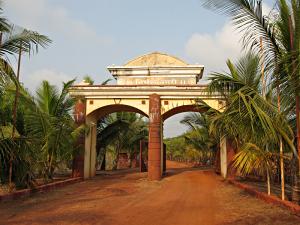 I stopped for four days to relax and meditate in a Sahaja Yoga center at Ganpatipule by the west coast of India. There I was able to wake up several times before half past six without an alarm clock, which probably already sounds amazing to those knowing my usual daily rhythm. But before more details I'll tell briefly what happened after I left Pune.
The first day when I continued my trip was said to be the New Year of the state of Maharastra. I didn't see any special celebrations while riding about 60 km south, but in the town of Khandala I was received kindly by the officer in charge of the government guesthouse. He said that I could stay at the guesthouse, I wouldn't even pay the modest room rate because I was his guest, and on top of that invited me for a dinner at his home. The meal consisted of several dishes made specially for the New Year, including different rice cakes and puranpoli, a kind of soft bread eaten by dipping it into a sweetish milk or cream based sauce.
After Khandala I took a mountain road up to an altitude of about 1300 meters and stayed for a couple of days in hill station Panchgani. There my base was Ecocamp, a group of large tents set up in a stunning location overlooking the Krishna river down in the valley. The friendly owners of the place, a Canadian-Indian couple, lived in a house next to the tents. I rode my bike to the scenic spots surrounding the village, walked around a strange flat highland plateau called Tableland, and took a birds-eye view from a paraglider. The paragliding ride was fun but didn't match the experience of trying skydiving some nine years back. I guess I'd need to stay longer in the air and be in control of my own wing (as was the case during the skydiving course) instead of flying in tandem.
From Panchgani it was still a short ride uphill to Mahabaleshwar, another hill station. The serenity of ancient temples in old Mahabaleshwar created a pleasant athmosphere and views were again impressive, but overall I found Mahabaleshwar less attractive than Panchgani. Without a vehicle the difference would have been even larger: Panchgani was small enough to walk around while a half-day sightseeing in Mahabaleshwar stretched to 30 km by bike in addition to the walks.
A joyride down the western side of the hills brought me to the Konkan region. I turned right from the southbound highway at Khed and arrived to the sea coast a few dozen kilometers further west. Coconut palms were lining gorgeous beaches next to small, quiet towns and villages. Although mostly not marked in my map, a network of small roads winded up and down the hills near the coast. Traffic was minimal and the beaches far from crowded, many even completely empty. I had arrived to the most pleasant region in India up to now during my trip.
The living standard of average villagers seemed to be somewhat better than in Rajasthan. They had nicer houses, more living space, and beautiful green surroundings provided by the nature. People were perhaps slightly more shy than their northern Indian brothers, but still very outgoing, helpful and hospitable. They were careful enough that I trusted newfound friends to go for a round on my bike, sometimes disappearing for a while with all the gear except the small bag of valuables which I always detach when stopping. Attempts to cheat or take advantage of a western traveller were completely missing. Nobody was begging or trying to charge "tourist prices" — many would even refuse to take a tip if I rounded up the bill in a small restaurant.
After a few days of pedaling south along the coast I was approaching Ganpatipule and decided to try camping again. I set up the tent on a patch of grass with a sea view, went for a moonlight swim and cooked my dinner in solitude on the beach. Later I heard that swimming after sunset is not advised and that cobras also live in the bushes near my campsite, but I only met a large colony of ants and some flying insects. The main problem was heat: despite fully opening all the ventilation holes my high-tech two-layer tent was succesfully blocking the wind and keeping the hot air inside.
In the morning I went swimming to wash off the sweat and bumped into three guys from the nearby Sahaja Yoga center. I had recently become more interested in yoga, partly through reading Autobiography of a Yogi which I had just incidentally finished previous night. The book was about a different school of yoga so I didn't have any previous knowledge of Sahaja Yoga in particular, but the people seemed sincere and I was in a receptive mood so it felt exactly the right time to give it a try.
The center had actually been more active ten years ago. There was a big stage were ceremonies for several thousand people had been held, a couple of weeks ago such gathering with more than ten thousand participants, about one fifth of whom from abroad, had been in Pune. A few dozen people had continued after the big gathering to this more secluded place by the sea, and by the time I arrived it was less than twenty. Most were from Russia and Ukraine, the only Indians being the caretaker of the center and a couple of part-time helpers. There wasn't any fixed daily program, but people generally got up around six, did morning meditation either at the site or by the sea, had meals together, spent a lazy afternoon, went swimming a couple of times per day and gathered for a group meditation session around 8 pm. Sahaja Yoga is a completely non-physical form of yoga, there weren't any lessons and the group was small, so the program didn't need to be very organized. Sleeping was outdoors by the big stage; there were also bunks in a couple of buildings but it was nicer to sleep in the open air.
During the first sessions I didn't feel anything special, but already during the second evening meditation there was a kind of vague sensation of energy. It was different from that suggested on the Sahaja Yoga web site (see also the Wikipedia page for a more objective take), but everyone I asked at the camp explained their experiences differently anyway. I got similar feelings a couple of times later as well, generally in the evening after a period of silence, not during worship which was also practised there. Whether there's anything divine to it is another question, and in particular worshiping the person who had founded the movement didn't feel like my thing. I don't have any plans for joining the organization, but as a technique for mind relaxation I'm planning to explore it further on my own for at least some time.
Again trying to follow my intuition, I left the yoga camp after four nights. Only twenty kilometers later in Kotawade I met a group of happy people at a small village temple and joined a local festival dedicated to the monkey god Hanuman. The celebrations were a combination of old and new: there were long readings of prayers and traditional songs but also an outdoor disco and a film screening to entertain people later in the evening. Around a dozen people slept at the temple and I joined them. I also had the option of staying in a room at one of the homes nearby and my luggage had been taken there, but this time it didn't feel impolite to turn down the offer and stay at the temple instead. In the morning I woke up early, had some chai (milk tea) and continued my trip.
4 comments
Comment
from:
Praveen Kumar
[Visitor]
Hi I was looking for some Sahaja Yoga related info and bumped into your blog. Indeed it is a pleasure to read your memories of travelling through India. I would like to clarify to you certain things about your thoughts and experience related to Sahaja Yoga. 1. The different feeling that you had, and that others too have, is owing to the reason of our different spiritual level at the time we begin. But soon it converges to similar feeling of a) thoughtless aware state b) Cool breeze blowing predominantly out of palms and top of head. c) feeling of bliss and joy. 2. The worshipping you saw, I too felt it to be odd, but preferred to ignore it for sometime. And when my meditation level improved, I understood very clearly that it was simply a method of thanks giving to the mother who has given such a blissful meditative state so easily to me. And, in fact, I noted that after the worshipping, the meditative state improved much more. I would thus suggest to you that you explore Sahaja Yoga for more duration at a nearby meditation center and at your home as prescribed - daily mornings and evenings at home and once a week at Sahaja Yoga center. After a period of one or two months, you can decide whether you want to continue or not. Best wishes.
2007-04-29 @ 18:56
Thanks for your comment and information. Several of the people I discussed with had been into Sahaja Yoga for many years, yet the experiences they described didn't quite converge. Some said they felt a breeze, some described they can feel the vibrations of a place, at least one had also out-of-body experiences. Calmness and bliss were common features. However, I personally think that different accounts make it more credible - people are individuals and so the feelings should differ as well. If everybody would experience exactly the same, the whole thing would start sounding like a brainwash.
People seem to need different paths. For example I also met a Hare Krishna follower who had found his bliss through that and was convinced that it was the best way. Personally I feel I'll just have to keep it simple. The buddhists would call it zen but I'm not sure which would be the equivalent word in hinduism. I think it would also be good for me to combine meditation with some form of physical yoga. I do a few exercises every evening to keep my body in shape but it's not really connected to the meditation.
2007-05-13 @ 15:24
Comment
from:
mangesh wadke
[Visitor]
jsm please show deatials of nirmal nagri be coz paepole can understand about sahajyoga and shri mataji please mention word and photograph of shri mataji

2009-01-20 @ 07:36
Hello Mangesh, Thank you for your comment. I gave a
link to the Sahaja Yoga web site
where people can read the words of Shri Mataji and see her photo. Personally I liked the peaceful message, the people I met at the center and the meditation sessions, but didn't want to join the worshipping in front of the photo in the meditation room. Nobody tried to force me into anything so it was all fine. I observed silently, trying not to disturb anyone, and participated just as much as I felt comfortable with. I believe my short stay at the Sahaja Yoga center was one step on the way of finding my own path, a quest which still continues. I'm nowadays doing a bit of simple hatha yoga and pilates, combining them with relaxation and silent meditation without any mantras or specific rituals. Arto
2009-01-20 @ 23:22
---
Copyright
Arto Teräs
<ajt@iki.fi>
, licensed under the
Creative Commons Attribution-Share Alike 3.0 Unported License
. (Unless otherwise mentioned in individual photos or other content.)