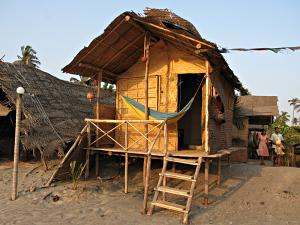 I reached Goa and stopped to enjoy the beach paradise at one of the northernmost beaches, Arambol. I rented a bamboo hut with a direct view to the sea, climbed on the hammock on the terrace and watched life on the beach while the sun slowly descended below the horizon. I was the only customer at Samsara, one of the groups of beach huts. I had complete privacy whenever I wanted but people to talk with, all the necessary services and live music almost every night just half a kilometer away in the center of the tourist village.
Goa is India's smallest state and the most populated by foreigners. The difference between Arambol and the geographically similar Konkan coast I had been following earlier was striking. Less than 100 km up north I had been among natives, all signs had been written in local script only and often even mobile phone coverage had been missing. In Arambol the main road by the beach was lined with guesthouses, restaurants, travel agencies and touristic shops. There were more than a dozen Internet cafes for one kilometer of road.
However, Arambol wasn't a line of polished faceless luxury apartments and hotels like I had seen by the Black Sea coast in Romania and Bulgaria. There were bamboo huts, a mix of newer and older slightly cramped buildings scattered around and a happy chaos of haphazard signs and posters everywhere. April was already considered to be off season so it was easy to get rooms and negotiate good deals. The downside of off season was less choice in activities and music nights, but there were still enough people to keep the village alive. Many foreigners (and of course locals) had been staying already for several months or years which gave the place a relaxed feel. And as far as the weather was concerned, I had nothing to complain about: sunshine and temperature above 30 degrees, but a pleasant wind blowing from the sea.
For the first couple of days I went for walks around the area, checking out the nearby sweetwater lake and a small shrine at an old banyan tree in the middle of the forest. Then I concentrated more on swimming, playing with the waves, reading, listening to music, thinking about what I want to do after this trip (I want to enjoy the summer in Finland but after that I don't know yet), meditating and relaxing. I thought I'd have a good opportunity to work on my writings and arrange my photos but time passed quickly and I didn't progress much with them. Due to the good availability of Internet connections I did catch up with some pending mails.
Two days of my ten-day stay I spent at a big music festival, Big Chill Goa, which was held on another beach about 5 km from Arambol. Ten years ago Goa was famous for wild all night rave parties on the beaches, but then a law was introduced which banned playing any music through amplifiers after ten in the evening. According to a long-term resident, the attitude of the police raiding parties more or less killed the underground scene also a few years later. That doesn't mean that there wouldn't be any music any more, but it went to smaller scale. Also, Arambol apparently never had been as active in the party scene than some of the more southern resorts such as Anjuna, which should still have several clubs to make partygoers happy. Big Chill Goa was a British commercial undertaking to create a big outdoor festival again, adhering to the current laws: they really did stop the music before 10 pm both nights.
The main stage was set up just away from the beach under palm trees creating an atmospheric arena with enough shade and a cool breeze coming from the sea. There was a dance stage with generally faster music and less shade, and a chill out area with guitarists, singers and dj's playing ambient tunes. The overall atmosphere was laid back and the music matched well with the surroundings. People were dancing without shirt on, many were smoking and/or drinking but I didn't see anybody getting too drunk or stoned and start disturbing others. It was possible to roam around freely between the festival area and the beach — despite the strict wording at the back of the ticket and guards at the gates there weren't any intrusive body checks and even carrying your own water and snacks in was okay.
The lineup was a bit too British but there were some Indian artists as well. The best of all was Sapthaakshara, a group of seven Indian virtuosos who put together an amazing show using just a few jars, drums and their voices. The Bays which was the final act on the main stage on Saturday was great too, and other groups I liked included Mad Professor, Jalebee Cartel, Raghu Dixit and Hexstatic. Coldcut, which was advertised as the top name on Sunday, didn't impress me too much. The total number of visitors was probably between one and two thousand people, less than the organizers wished but enough to make it feel like a festival.
Due to the large tourist population, most of the restaurants in Arambol were serving a mix of western and Indian dishes. Italian seemed to be the western food of choice: almost every second shop advertised pizza and pasta. Restaurant Sea Breeze served delicious portions of muesli, youghurt, fruits and honey, filling veg-cheese sandwiches and great fresh banana juice — magnificent breakfast topped with a great view to the beach. Hotel Manjunath looked unattractive but did superb fish thalis, including rice, vegetables, pickles, two sorts of curry sauce and some freshly grilled fish for just 30 rupees (0.5 euros), unbeatable value for money. Loekie's cafe was only place with live music almost every evening even during off season (their food was okay too), and Psy Bar deserves credit for keeping up the goa trance beat all night long. Despite the low volume I heard they got visited by the police on Saturday so the mood on low on Sunday, but at least before that it was the place to hang around late, either dancing or simply lying on the mattresses, listening to the music and chatting with people.
Next to Loekie's cafe there was a lady advertising Kerala style ayurvedic massages and treatments. I went for a one-hour full body massage which was very enjoyable. It got even better when combined with Kirhi (or Elakizhi as it seems to be called in some other places), a treatment with cotton bags containing a hot herb and oil mix inside. Although achieved using a different method, the resulting feeling was quite similar to that after a good Finnish sauna bath with vihtas, bunches of small birch tree branches which you use to hit yourself and other people in the sauna. Encouraged by the good experience I decided to try something more weird, Sirodhara, which consisted of lying on the back while cool oil was being poured on the forehead. I didn't quite reach the kind of deep relaxation advertised by some descriptions, but it was a pleasant feeling and satisfied my neverending curiosity.
Goa is most famous for the beaches, but there are also some interesting places in inland Goa. My next step will be to hop on the bicycle again and explore some of them before saying goodbye to this country. I already booked a flight ticket to Thailand and have only one week left in India.
5 comments
Lucky you! Sounds like a wonderful adventure! Greetings from your old petit bourgeoise job :)! Upi
2007-04-20 @ 10:03
Is it getting too hot yet ? I'm visiting India in June and I think it might be too hot for Goa at that time! Best wishes Brian
2007-04-20 @ 12:45
In June it's monsoon time, so coming to Goa then would certainly be a different kind of experience. Most places will be closed, even many foreigners who are staying long term escape the monsoon by going somewhere else. The temperature shouldn't be that much of a problem, it's rather the humidity. But it might still be fun if your attitude is right. :)
Inland India is actually hotter during the summer (and already spring time) than the coast. On the other hand, June should be optimal timing to hike up north and wander in the Himalayas.
2007-04-21 @ 11:00
Hi Artos, Nice post must say. I am an Indian & stay in the city of Mumbai & ensure that i visit Goa atleast once in a year, have been doing this for the last 5 years atleast & i usually stay in Anjuna for around 10 days & then move around on a rented mobike in North Goa. I had visited Arambol once & didnt find the beach much attractive.. very unclean beach to put it so. but many that i've spoken & who have stayed in Arambol talk good about their stay in arambol. This year i m planning to stay a couple of nites at arambol. wanted to know a bit more about the night life their as i am used to stayig out all nite wid parties happening on one shack or the other at Anjuna every nite. Will it be worth a stay at aramol. I stay alone, are the tourists friendly their to give company over a drink. They are in Anjuna for sure & have made lot of friends every year that i visit. Kindly advise.
2011-10-30 @ 08:36
Hi Abhijeet, Thank you for your comment. I also visited Anjuna but stayed only one night there so I cannot make a detailed comparison. Club Paradiso in Anjuna was interesting and had a cool location by the sea, but somehow Arambol had a more cozy atmosphere. People were friendly in both places. I didn't get the impression of the beach at Arambol being too dirty, but perhaps it is during peak season when there are more people. I was there off-season (in mid April) so also night-life was relatively quiet, but it seemed that there had been plenty of offerings until the end of March. If you're curious about Arambol I would encourage you to try staying there - that's the only way to know if you like it. :) In case you don't, it's quite easy to move to Anjuna as they are not far away from each other. Arto

2011-10-31 @ 01:24
---
Copyright
Arto Teräs
<ajt@iki.fi>
, licensed under the
Creative Commons Attribution-Share Alike 3.0 Unported License
. (Unless otherwise mentioned in individual photos or other content.)