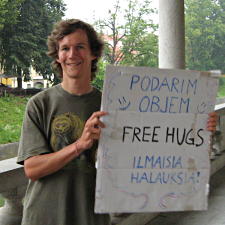 After hiking in Triglav I stopped in Ljubljana, the capital of Slovenia for five nights. I met other travelers in Metelkova, joined a Free Hugs party and had one of the most extreme CouchSurfing experiences ever.
Ljubljana is nice and small for being a capital. The castle hill overlooks the city center which is crossed by the Ljubljanica river. Many buildings date back several hundred years but the center got its current look during the first half of 20th century, largely from the drawing board of one architect, Joze Plecnik. Stylish cafes populate the riverside which also has plenty of spots where street artists play music and show their skills every day. Only about a kilometer away there's Metelkova, a group of buildings squatted 15 years ago with funky art galleries, graffiti all over the walls and people hanging out drinking beer every night.
I had already walked the usual touristic trail with my mother and brothers two weeks earlier so this time I spent more time meeting people in Metelkova. I cooked with a group of Finns who were traveling from a festival to festival in an old campervan and listened to music with two French guys from Lyon. And in Metelkova I also met Andrej.
Andrej was the most active CouchSurfing member in Ljubljana and didn't have any guests at the moment so he readily invited me to his house. I was staying in a hostel but moved the next day. One day later an American guy and two Canadians arrived, also bringing in as a surprise four Danish girls who had been in the same bus and didn't have a place to stay. Andrej picked up everybody from the city center in his car and gave a city tour in the evening while still keeping his building maintenance business going at the same time.
Laurent and Gabrielle, the two Canadians got an idea to have a Free Hugs event on Saturday. The idea is simple: make signs which say Free Hugs in English, the local language and possibly other languages, smile and give a hug everyone who is willing to accept one. We met in the city center and started hugging strangers under the covered sidewalk by the market and on Preseren square, in the middle of rain. After two hours everybody was wet and happy.
While giving hugs we also met a group of French students who were looking for a place to set up their tent. They didn't have to: Andrej invited them in to have 12 guests in total and the day ended in a drinking party in his house 8 km from city center.
On Sunday morning everybody went in their own directions. I had planned to hitchhike towards Bosnia, but late Sunday morning apparently wasn't the best time for that. After a couple of hourse of waiting I decided to take a train to Zagreb, Croatia and spend the evening there.
3 comments
"…one of the most extreme CouchSurfing experiences ever" Hmmm… what was it?

2008-08-08 @ 02:48
The guy hosting 12 people at the same time, 9 of which didn't contact him at all. :) Okay, extreme is perhaps too strong expression, but it was quite interesting.

2008-08-09 @ 18:11
Arto! Lovely entry : ) I agree, it was quite an extreme experience. - one of the Danish girls
2008-08-27 @ 13:18
---
Copyright
Arto Teräs
<ajt@iki.fi>
, licensed under the
Creative Commons Attribution-Share Alike 3.0 Unported License
. (Unless otherwise mentioned in individual photos or other content.)