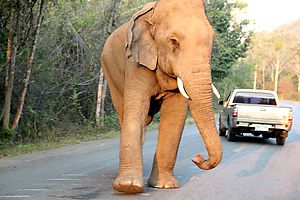 Sandra and I are now in Thailand and this photo shows one of our most exciting moments during the first two weeks. We were riding a moped back from Palau waterfall in Kaeng Krachan national park, when suddenly two big wild elephants were walking towards us on the road. A Thai man stopped his moped, turned around and adviced us to do the same. We drove back a couple of hundred meters and watched how the beautiful animals walked slowly forwards. One of them decided to return to the forest, the other continued on the road.
A car came from our direction and started slowly driving around the elephant. We followed behind the car together with the Thai motorist. Just as the car was passing, the elephant turned and started again crossing the road. The car and the Thai motorist got through, we weren't sure and stopped. Should we get off from the moped and slowly retreat on foot, or what should we do? Fortunately the elephant decided to stay in the middle of the road, leaving us enough space on the side. Sandra held her nerves well enough to point the camera towards the giant and take the photo.
We started our Thailand tour on the 14th of February by flying to Bangkok and taking a bus to Hua Hin. There we visited Sandra's father, who married a Thai woman after the early death of Sandra's mother, and who is now living in Thailand with his new family. In addition to meeting the family, Hua Hin was a good place to get adjusted to the climate, to try out Thai food and delicious fruits, to spend a bit of time on the beach, to enjoy a Thai massage, to visit a few temples and to get used to the left hand side traffic. The trip to Palau by moped was an exception, mostly we rode our bicycles which we brought with us.
After a week in Hua Hin we spent two days in Bangkok, which was a quite hectic experience after the more relaxed Hua Hin. We cycled once across the whole city from the western bus terminal to our hotel, which we had less wisely booked in the eastern part of Bangkok. After that we switched to public transport and walking. Once we rode motorcycle taxis, the fastest way to get around and an experience in itself. Of the most famous sights we went to see the big lying golden Buddha statue at Wat Pho, but skipped the Grand Palace. The backpacker oriented Khao San area was a bit more laid back, including roads without cars, with food stands on the side and foot massages outside in open air. We also shortly met my old friend Phisit, who kindly invited us for lunch near his workplace.
From Bangkok we took a train north to Phitsanulok and started our cycling tour. We rode first to Sukhothai spending one day around old temple ruins, and from there through the countryside and small towns towards Chiang Mai. Now we are at Chom Thong, near Thailand's highest mountain Doi Inthanon and the surrounding Doi Inthanon national park.
Especially smaller roads have been nice and motorists surprisingly polite. Cars and trucks mostly leave a large safety margin when overtaking us — sometimes vehicles coming from the opposite direction have to cope with a much less space than we do. People are yelling "Hello hello" from their houses when we're passing: the smaller the road the more attention we gather. A few times we've got spontaneous gifts such as bottles of drinking water or a watermelon. Unfortunately the locals' English ability is usually limited to the "Hello" and we don't speak enough Thai to really communicate with them.
Daily high temperatures are constantly over 35°C, and the sun shines strongly. We try to start relatively early in the morning and find accommodation latest early afternoon, leaving time to rest during the hottest time and to walk around later in the evening. Hotels and guesthouses are mostly easy to find, and cost around 400 Baht (10€) for a modern and clean room with air conditioning, less with fan only. Two times we stayed with CouchSurfing hosts, enjoying generous hospitality and learning more about the local culture and habits.
Staying connected in Thailand is quite easy nowadays. Almost all hotels and guesthouses have free wireless Internet. And when that's not available, we can use our one month / 1 GB mobile Internet package which we got for 500 Baht including the SIM card and some talk time. Phone calls with Thai SIM cards are cheap too, even when calling abroad. Roaming fees are absurdly high, so our Finnish and German cards we're keeping out of our phones.
No feedback yet
---
Copyright
Arto Teräs
<ajt@iki.fi>
, licensed under the
Creative Commons Attribution-Share Alike 3.0 Unported License
. (Unless otherwise mentioned in individual photos or other content.)