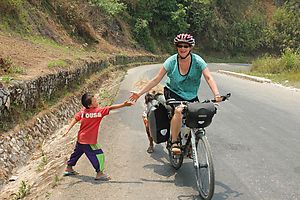 Our bicycle tour continued to Chiang Mai, the largest city in Northern Thailand, and further North-East towards Laos. The landscape became more mountainous and the roads climbed up and down with numerous sharp curves. The temperatures were pleasantly a bit cooler than in Central Thailand, due to the higher altitude and the surrounding hills and mountains. Especially during the nights the temperatures dropped, making blankets more useful than air condition.
About 60 km north-east of Chiang Mai we came to the Bua Tong waterfall. We had seen several beautiful waterfalls a few days earlier in the Doi Inthanon national park, but Bua Tong totally surprised us. The water flowed down the cliffs in relatively small steps, which had a sandpaper like surface with a good grip. Children and adults alike were climbing up and down the falls, playing with the water. We naturally joined the party: a refreshing and fun experience!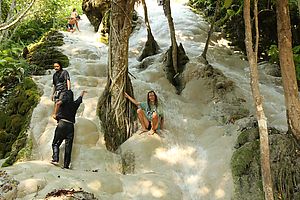 In Chiang Khong we crossed the border over the Mekong river to Huay Xai, Laos. There we took a break from cycling and joined the Gibbon Experience, a one and a half day trip to the jungle with ziplines. Wearing a climbing harness and hanging from a metal wire, one glides through the forest and above the treetops. It was a series of exciting rides and great views to the nature at the same time, with the longest ziplines being almost a kilometer long. The night was spent in a treehouse, swinging gently in the wind several dozen meters above the ground. We didn't see any gibbons, but enjoyed the forest which had some magnificent giant trees. According to the Gibbon Experience website, the income of the activity is funding the protection of the forest. Without deeper knowledge it's hard to say how large a share truly goes to preservation, and how much building the ziplines and riding them disturbs the nature, but I do believe it's a more sustainable business model than logging and burning the forest to fields.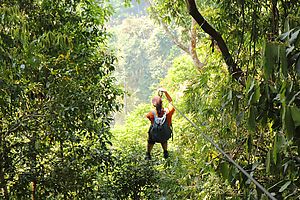 From Huay Xai we continued further east across Northern Laos. The Lao road network is much less dense than in Thailand, so we couldn't easily plan a route on secondary roads. Fortunately the main road number 3 towards Luang Namtha was far from a busy highway, rather resembling the countryside roads we had been cycling in Thailand. The population density of Laos is less than a fifth of that in Thailand, and only few people have cars. Heavily loaded old trucks and minibuses occasionally unfreshened the air with thick black clouds of exhaust while passing us, but the traffic density was low enough not to bother us too much.
The road continued to go up and down large hills, with beautiful views down to the valleys on higher passes. The surface was paved and in good condition, a pleasure to ride. The land was partly covered by forest and partly deforested, with mainly Chinese and Vietnamese buying the wood. We saw many small rivers, which were generally cleaner than in Thailand, probably due to almost complete lack of any industry in the area.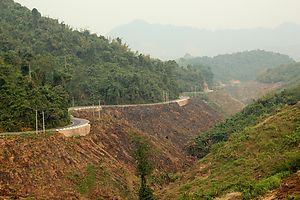 Both Lao and Thai people have a habit to burn patches of land, often to prepare a field but sometimes with no apparent purpose. Most of the burning happens between February and April, which in combination of the long dry period makes the air misty and dusty, like constantly being inside a thin cloud. It has not been difficult to breathe but we have certainly felt the difference from fresh and clear mountain air. We've also missed the blue sky, which will only appear again when the rainy season begins in May or June.
Roughly every five kilometers the road went through a small village. Children were happily waving and shouting "Hello" or "Sabaidee", often running to the roadside to meet us. They didn't have much but were laughing, playing and seemingly enjoying life. We rarely heard a child crying or anybody shouting in an angry voice. Adults were a bit more reserved but many still greeted us, staring, smiling and wondering why on earth were we pedaling all those uphills by bicycle when also motorcycles had been invented.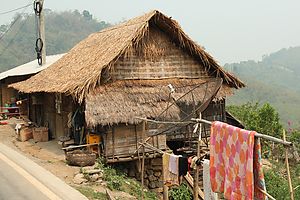 Most of the houses in villages were modest bamboo huts, probably similar than they've been for hundreds of years, except being nowadays equipped with electricity, tv and a satellite dish. Cooking was still commonly done on fire and washing at the village well. Here and there between the huts appeared fancier newer houses built from concrete, especially in villages located near bigger towns. Almost every village also had an elementary school, often built with the support of some charity organization. That was the situation in villages next to the main road. Rural villages tucked between the mountains, many of them accessible only via narrow dirt tracks, are apparently still less developed.
We cycled about 400 km from west to east via Luang Namtha and Oudomxay until Muang Khoua, a small town near the Vietnamese border. From there we took a two-day boat ride south on the Nam Ou river, finally joining the Mekong and arriving in Luang Prabang. The ride was very scenic, villages by the riverside only accessible by boat, fishermen, water buffaloes, small rapids, rock formations, sandy beaches and majestic mountains. Between the two days spent in the boat we stayed for two nights in Muang Ngoi, a riverside village transformed into a backpacker hangout as a result of all the boats stopping there. Despite the tourist crowds it was still a quiet and atmospheric place, having no cars and electricity only between 6 and 10 pm produced by a generator. That said, a new electricity line was just being installed and a road being built, which will certainly make a big change.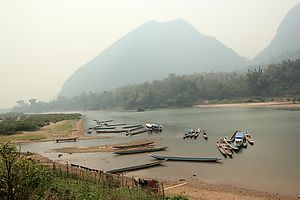 In Luang Prabang we went to see some of the well-known sights. The old and beautiful Xiengthong temple and the Kuang Xi waterfalls 30 km outside the city with idyllic turquoise pools were really worth a visit. After that we headed again out to the countryside and started cycling towards Phonsavan. The road was even a bit more mountainous than earlier parts of our route, making some of the days quite exhausting. Villages seemed to be a bit wealthier than in the north, but ironically the first time children came to beg for candy and money. It didn't happen often, but a few times during our ride through the region.
Overall the pace of life in Laos is slow, slower than in Thailand. Selection in shops and on the markets is smaller, there is not much effort in arranging things attractively on the shelves and never a push to buy anything. Restaurants are serving more basic food, which however is usually tasty and not too spicy. Nobody seems to be in a hurry to go somewhere. This helps also the traveller to adopt a more relaxed and simple lifestyle. We will see how the atmosphere will change in a few days, during the celebration of Pi Mai, the Lao New Year. In addition to old traditions of cleaning homes and paying respect to the gods, the festivities include some wild partying and water throwing. In these temperatures being sprayed with water is a pleasure, so we're looking forward to joining and getting wet.
No feedback yet
---
Copyright
Arto Teräs
<ajt@iki.fi>
, licensed under the
Creative Commons Attribution-Share Alike 3.0 Unported License
. (Unless otherwise mentioned in individual photos or other content.)