Sailing finished, but still on the road
Posted:
2015-05-22 01:51:00
, Categories:
Travel
, 170 words
(permalink)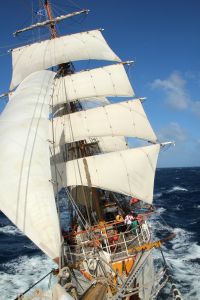 Antarctica and South Georgia were wonderful and we survived the sailing too. :-) It was a fascinating experience to cross an ocean in the old fashioned way, on a tall ship powered by the winds. We arrived in Cape Town in April as planned and spent a bit over a week there and in the surroundings. Then we flew back home but only shortly, as we decided to extend the trip by spending a few weeks in England. This post we're writing in Kendal right next to the Lake District, where we plan to go hiking for the next few days.
Unfortunately we struggled quite a lot with seasickness on the ship and therefore couldn't work much on blog articles or photos during the sailing. We will still be writing about our long journey here, but it'll happen a bit later than originally planned. Meanwhile, you can scroll back to March and April in the Bark Europa Logbook and read the articles posted during the time we were on the ship.
No feedback yet
---
Copyright
Arto Teräs
<ajt@iki.fi>
, licensed under the
Creative Commons Attribution-Share Alike 3.0 Unported License
. (Unless otherwise mentioned in individual photos or other content.)