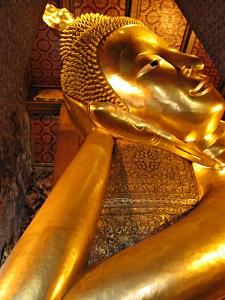 I started my stay in Thailand as a guest of Phisit, a friend I had met during my exchange year in Japan. Just two days after my arrival the parents of his Japanese host family came for a four-day visit, and Phisit invited me to travel together with them. I hadn't taken a single guided package tour during my trip, but this time the itinerary was set, hotels were reserved in advance and we had a car to move around. I switched to extra shutter-happy mode (averaging more than hundred photos per day), tried to blow off the dust on my Japanese and joined in.
We began by picking up the Japanese couple at the Suvarnabhumi airport near Bangkok and driving south-east to Chanthaburi, an area famous for fruits. It was the beginning of harvest season and a friend of Phisit had a large fruit garden just outside the city. We spent a couple of hours eating as many durians, salaks, mangosteens, longkongs and rose apples as we could. Durians are the favourite fruit of many Thais, but I preferred mangosteens and longkongs. To be sure not to run out, at least twenty kilos more were loaded in the trunk before we moved on. On the way back we took a short walk in the tropical forest in a national park and in the evening had a feast at Phisit's brother's house in Phanatnikhom, about 80 km from Bangkok. Bananas and mangoes from his garden were added to the fruit plate.
On Tuesday the 1st of May we had again some fruit for breakfast and headed to Pattaya, one of the most popular beach resorts in Thailand. Tourism is already the most important source of income for the country and in Pattaya there was absolutely no doubt about it. Streets were lined with guesthouses and high-rise luxury hotels, restaurants, cloth and souvenir shops and Thai massage parlors. The beach was full of sun chairs most of which were empty due to the rainy weather, but a few speedboats and jet skis were still buzzing in front. At night time the main road was converted to a walking street, signs advertising go-go girl shows were lit, touts started competing with lines such as "Naughty girls, draught beer 55 baht" and bars filled up.
Phisit had arranged us a stay in four-star Pattaya Park Beach Resort. With off-season discounts just less than 20 euros per head bought us a suite room for four, including a sumptuous breakfast buffet and access to the hotel's large waterpark with different pools and slides. In the evening we took the elevator up to the revolving restaurant in the hotel tower and enjoyed a dinner buffet 170 meters above sea level. After that we still had time for a cabaret show in club Alcazar in the center of the town. The costumes and decorations were superb and the choreography also fairly good, but dancing was mediocre and songs mostly playback instead of live performances.
From Pattaya we drove to Ayutthaya, the ancient capital of Thailand about 70 km north of Bangkok. The temple ruins of Ayutthaya are on the Unesco World Heritage list and there are lots of them. We only had time to see part of the ruins, but it was enough to get a good overview of how Buddhist temples were built hundreds of years ago. My favourite was a Buddha head near the ground, surrounded by the roots of an old, still growing tree.
After walking around at the ruins we had Ayutthaya style noodles for lunch, went for some shopping in a large handicrafts center (I wandered around in the exhibition halls while our Japanese friends did the shopping) and drove to Bangkok. Phisit had asked his brother's friend's travel agency to book a perfect room for a reasonable price and they came up with two deluxe rooms in the five-star Montien Riverside Hotel, facing the Chao Phraya river which flows through Bangkok. There wasn't Internet access in the room or even in the lobby, and the sauna was out of order, but otherwise there wasn't much to complain. I was pleased to note that instead of the "Don't throw water on the stones" sign too common in saunas abroad, there was appropriately a bucket and a ladle for that very purpose.
Following morning we took a boat up the river to the Royal Palace which had just as much gold and impressive ornaments as you'd expect. From the palace we crossed the river to take a look at the local market and have lunch at about half the price from what it would have been on the other side, and then continued to the famous Wat Pho temple. The world's largest reclining Buddha was magnificent and the other halls were also worth seeing, but the Thai massage was a slight disappointment. It wasn't outright bad, but I didn't particularly like the way my masseuse went over the bones and she forgot to do the right side of my neck. The program contained less of the stretching movements — a particular feature of Thai massage — than I expected and overall I didn't have the same kind of good feeling afterwards as after the Kerala style massage in India. Wat Pho hosts a famous massage school so maybe I was just unlucky and got one of their less talented graduates. I might try again in another place and go for a full two-hour session instead of the one hour at Wat Pho.
When leaving Bangkok we were stuck in a traffic jam for a couple of hours; trying to move around in the city by car seems to be a really bad idea. However, we still reached the airport early enough to have time to stop in a cafe. We added together all the expenses of the four days including hotels, meals, fuel, highway tolls, entrance fees and entertainment ending up with a total of 21333 Baht (about 450 euros). To be honest, the final sum excludes a few items which everyone paid separately or the Japanese couple insisted to take on their tab, but it was still very reasonable. After saying good bye to the Japanese I and Phisit returned to Phanatnikhom — my stay in Thailand is not over yet.
1 comment
I gave Thai massage a second chance and this time the experience was everything else but a disappointment. It was in a small shop in Bangkok near Huai Khwang metro station, a few hundred meters east along the Pracharat Bamphen road. The massage was at the same time more gentle and more thorough, giving a good feeling deeper inside than what I had at Wat Pho. The place also provided loose clothes which are essential for the stretching exercises - Thai massage is normally done clothes on. A two hour session was only 250 baht (5.5 euros), I was happy enough to give a bit extra.
2007-05-13 @ 14:58
---
Copyright
Arto Teräs
<ajt@iki.fi>
, licensed under the
Creative Commons Attribution-Share Alike 3.0 Unported License
. (Unless otherwise mentioned in individual photos or other content.)