Christmas and New Year greetings
Posted:
2007-12-21 12:03:24
, Categories:
General
, 188 words
(permalink)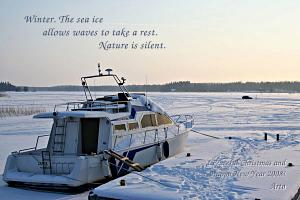 You can read my Christmas and New Year haiku in English, in Finnish or in Japanese. A haiku is a poem consisting traditionally of a pattern of 5, 7 and 5 Japanese language sounds, or syllables. More recently poets have taken liberties of deviating from the pattern, especially in languages such as English which are not so clearly based on syllables. Finnish, on the other hand, fits rather nicely in the traditional format.
In addition to the electronic card, I did send a fair number of Christmas and New Year greetings also in old fashioned paper format. Otherwise I rarely send letters — email has replaced them quite completely in my life — but at the change of the year I still find it nice to send and receive some, especially hand-made or otherwise personalized ones. Mine were variations on two simple origami (paper folding art) themes, photos, plus a few commercially sold cards which were still lying around from previous years. I didn't buy any new cards this year.
I hereby wish all the readers of my blog happy festivities, in whichever way you celebrate them. May peace be with you in 2008!
No feedback yet
---
Copyright
Arto Teräs
<ajt@iki.fi>
, licensed under the
Creative Commons Attribution-Share Alike 3.0 Unported License
. (Unless otherwise mentioned in individual photos or other content.)