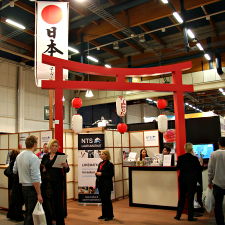 The yearly Helsinki travel fair held during the third weekend of January had a timely official theme: Vastuu yhteisestä maailmasta (Responsibility of our common world). However, another theme emerged more prominently: Fly far and cheap. Finnair, Air France, KLM and other airlines had huge booths where they were selling long distance flights for lower prices than ever. Return flights to India, Thailand and China were less than 400 €, to North America, Northern Africa and Japan well below 500 € and to South American cities around 750 €, all taxes and other fees included. With more than 85 000 visitors attending the event they probably sold quite a few of them. I didn't really figure out how the official and the unofficial theme connected with each other, but never mind.
I spent most of the time at the Japania ry booth, answering questions about traveling in Japan and Japanese cultural events in Finland. A typical visitor had just booked flights to Japan and was searching for hints about which places and cities are worth seeing, where to stay and other practical things. Another common category were fathers and mothers who came to ask about manga and anime (Japanese comics and animated films), because "our teenage kids are crazy about them and we don't understand anything".
Japanese youth culture is certainly hip in Finland now and it's a bit surprising that the Japanese Embassy doesn't do much to embrace it. Japan didn't have any official presence at the travel fair either, so Finnish-Japanese friendship organizations and a couple of travel agencies tried to fill the gap. Laatumatkat had a fancy torii (Shinto style gate) in front of their stand which is featured in the picture of this blog post. I also made a small photo gallery of Japan related stands at the event, including a few portraits of people in cosplay dresses (dressed as manga characters).
I tested a couple of booths with my favourite question What can you tell me about bicycle travel in your country?, but didn't meet anybody too enthusiastic or knowledgeable about it. Last year the Georgian representant did very well. :-) The narrow corridor where all the volunteer run friendship organizations were placed next to each other was again the best of the show: had a couple of nice discussions there. Otherwise I didn't find much of interest as I didn't want to book a cheap flight somewhere or collect a bunch of thick brochures. A bit too late I realized that I had missed the domestic section completely; that might have been worth visiting. For international travel, much better information is available through web sites and by contacting locals or other travel enthusiasts.
2 comments
Hi Arto, Just wondered how you are getting on! Best wishes Brian
2009-03-01 @ 14:47
Quite well, thanks for asking. We still have snow on the ground and ice on the sea which makes it feel like winter - I like it. Days are already much longer than in December and January. I've been preliminarily planning a cycling trip for next summer with friends. The most likely destinations are either Iceland or Scotland and Ireland, but haven't decided anything yet.

2009-03-01 @ 17:20
---
Copyright
Arto Teräs
<ajt@iki.fi>
, licensed under the
Creative Commons Attribution-Share Alike 3.0 Unported License
. (Unless otherwise mentioned in individual photos or other content.)