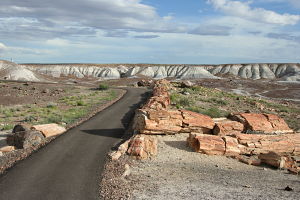 In June I spent about ten days in Arizona and Southern Utah, admiring the Grand Canyon, several other national parks and the deserts between them. One of the most fascinating natural features was petrified wood: old logs which had turned into colourful stones through a long process of organic matter being replaced by minerals brought in by water. It was also very interesting to go for a walk just about anywhere, looking at the different cacti and other plants in the dry, but not barren ground. The photo in this blog entry is from the Petrified Forest National Park and a few more from various places on the trip can be found in the photo gallery.
The trip was actually a family gathering. My youngest brother Lari has been living in Canada since August 2008 and it's a tradition in our family that whenever one of the kids is living abroad the rest of us come for a visit at least once. So we traveled to Lari's home in Welland, Canada, near the Niagara Falls and toured southern Ontario a little bit. However, none of us had seen the Grand Canyon or other natural wonders in Arizona so we decided to spend two thirds of the three week holiday almost on the opposite side of North America.
We started with a flight to Las Vegas, which is a city of tens of thousands of slot machines, millions of flashing lights and imitations of Eiffel tower, canals of Venice and other famous places around the world, all in the middle of desert. Hotels are trying to lure people to gamble in their casinos with all kinds of attractions, including super low prices during the middle of the week. You can stay in Hilton for less than 20 euros per double room (we paid 24 USD plus tax) and eat a sumptuous dinner buffet in Sahara, another nearby hotel for about 7 euros per person including non-alcoholic drinks. Vegas is a good place to stop for a night or two, go sightseeing inside the hotels, save the casino bucks for a car rental and then get out of the city.
At Grand Canyon I went to sit on the edge of the cliff in the morning, looking towards the other side which was 15 km away with a gorge about 1.5 km deep in between. The majesty of the place added a sense of calmness to the atmosphere. There was a river in the bottom but no way of seeing any details of the water flowing through. There were people walking on the trails but appearing to move very slowly, an illusion created by the great distance. It's common to spend one day hiking until the bottom of the gorge and use the following day to climb back up. We only did a half day hike, descending 350 meters of altitude for getting better views than from the rim.
From Grand Canyon we drove 200 km south to the Sedona area. There lush areas by the riverside were surrounded by red sandstone mountains and prairie further away from the water. We stopped at one of the roadside parking lots and took a walk watching all the different plants. Low bushes, grass and various types of cacti were pushing out from the red ground. Some of them were blooming in bright colors. We saw a roadrunner run across the path but no coyote following it. A local shop was selling quite tasty prickly pear cactus candy.
Our next major stops were the Petrified Forest and Painted Desert national parks. Green plants were scarce in them but otherwise they were full of colors. Long time ago fallen wood had been buried underground and water filtered through it, gradually replacing all organic material with minerals. Later erosion again exposed the logs which had preserved the shape and patterns of wood but been turned into stones of various colors and cracked into smaller pieces. Behind the groups of petrified logs was the painted desert, rows of small rocky hills and gorges which also were rich in colors from the different minerals embedded in them. It was a fascinating sight. With more time and proper equipment it would have been possible to get off the paths and go hiking and camping in the painted desert wilderness area. If I go there another time I want to be prepared for that.
We continued further north and then west back towards Las Vegas, stopping in a number of places on the way. Monument Valley was particularly interesting because of its movie heritage: many famous film scenes have been shot between those cliffs. Another less known place which I especially liked was Devil's garden in Escalante, southern Utah. It was a wonderful rock formation a little bit out of the way, behind 20 km of gravel road. We decided to drive there despite rain and when arriving we saw a rainbow over the site. Nobody else was around and we spent an hour exploring the holes, arches, stone mushroom towers and other strange shapes.
Our connection to the local culture was superficial. Native American Indians were selling handicrafts next to the sights but we didn't make friends with any of them to hear or see how they actually lived. We did see a bit of the American way of traveling and how everything is big. Massive mobile homes were towing SUVs behind them to be used for shorter trips. Food portions in restaurants were huge — it was easy to see why overweight is a common problem in the country. More positive for us were the hotels which were often large enough to accommodate all five of us in one room or very comfortably in two rooms. Overall, it was nice to have the whole family together for more than a day or two. Previous time was in 2003 when I was living in Japan. It's funny that it seems to happen more easily thousands of kilometers away from home.
3 comments
Nice post Arto. It seems like a very unique place (as we have seen in many films).
2009-07-16 @ 11:54
Grand Canyon, it will be dreaming place to go, wondering to be there someday.
2009-09-08 @ 22:53
Comment
from:
Ingrid und Detlef Baur Kisslegg
[Visitor]
Hallo Arto, deine Reiseberichte sind aussergewöhnlich spannend!! Weiter so!!
2009-11-07 @ 17:03
---
Copyright
Arto Teräs
<ajt@iki.fi>
, licensed under the
Creative Commons Attribution-Share Alike 3.0 Unported License
. (Unless otherwise mentioned in individual photos or other content.)