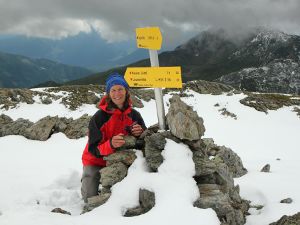 One of Sandra's dreams was to go for a long walk one day. Like her, I had been on many short hiking trips, lasting up to one week, but never longer than that. So we decided to spend four weeks of our summer holiday by walking over the Alps.
Our route was mostly following the München-Venedig trail, a 550 km hiking route from Munich, Germany to Venice, Italy. Apparently a few hundred people walk at least a part of the trail every year. The route is described with minor differences in at least three books, all in German. We were carrying two of them with us.
We skipped the first 150 km and started near Innsbruck in Austria. The first day was easy: a bus to Tulfes and a ski lift up to 2000 meters left only a few kilometers of distance and 600 meters of altitude to climb up to Glungezer hut, our first place to stay. This time we didn't carry a tent, but our backpacks were loaded with a camping cooker, food, clothes and other equipment needed for the trip.
Second day showed us the reality of the mountains: sunshine had turned into snow and clouds with almost zero visibility. We chose a route which stayed most of the time on a ridge above 2500 m, trusting the forecast which suggested weather to clear up by noon. Well, it didn't and we spent a full day doing our best to find safe steps on the slippery rocks. It was almost dark when we arrived at the next hut.
On the following day the weather was better again and we got used to the already familiar Alpine scenery: snow-capped peaks, rocky ridges, mountain lakes and grass-covered highlands where cows and sheep were grazing between the mountain flowers. A new companion we hadn't so often seen before were marmots, who were squeaking and standing on two feet besides their holes, looking at us.
The trail never climbed over 3000 meters but rarely descended below 1500 meters. The weather varied rapidly from 25°C sunshine to cold rain, with temperature occasionally falling down to 0°C and rain turning into sleet. Once we had to change our planned route: Friesenbergscharte was not passable due to too much snow and clouds. We hiked about 10 km west and crossed the ridge at Alpeinerscharte, knee deep in the fresh snow. On the way we stayed one night at Geraerhütte, which turned out to be one of the most charming huts of the whole trip.
I had usually traveled with a tent so hiking from hut to hut was something new for me. Huts in the Alps are quite well equipped, even luxurious: most have nowadays electricity, hot showers, water closets and a fully equipped restaurant. Perhaps a bit surprisingly, they are still considerably cheaper than hotels and guesthouses in the valleys, at least for Alpine club members. A bed in the dormitory costs 8-10 euros for members (about double from non-members) and meal prices are similar to simple restaurants down in the valleys.
Where the huts differ between each other is the atmosphere. Some are friendly and cozy family businesses where the hosts have time to talk with every guest personally, while others are more busy hostel and restaurant establishments. Small huts far away from roads and cable cars are usually the best. Our favourites on this hike were Geraerhütte (Austria), Kreuzwiesen Alm (Italy) and Rifugio Pisciadu (Italy).
Actually we were in Austria only the first five days before arriving in Italy. However, the main local language was German still for a week and both the mountains and architecture of houses remained similar to Austria. It took a few more days to reach the Dolomites, which looked quite different. More about them in part 2.
No feedback yet
---
Copyright
Arto Teräs
<ajt@iki.fi>
, licensed under the
Creative Commons Attribution-Share Alike 3.0 Unported License
. (Unless otherwise mentioned in individual photos or other content.)