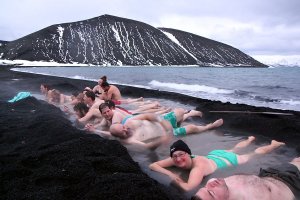 Hot bath next to the cold Antarctic sea.
A luxurious way to finish a day of hiking is to enjoy a hot bath. That's what we did on Deception Island after walking around the volcanic landscapes near Telefon Bay and visiting the huge Chinstrap penguin colony at Baily Head in the afternoon.
We came back to the ship for dinner and a short briefing as usual before all landings, then picked up our towels and headed back out on the deck. The crew was busy transporting everybody to the land with the zodiacs. On the beach just next to the sea water, steam was rising from the dark volcanic sand.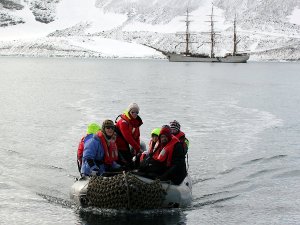 Zodiacs brought us from the ship to the land.
We got our ride in the second group of two zodiacs and when we arrived the fastest ones were already digging a hole in the sand. Surprisingly fast a long narrow pool was ready and filling up with nice, hot bathing water. Clothes off, hop in!
We had heard that the bath might be anything between chilly 15 and burning hot 70 degrees celsius, but we were lucky and had about 40°C, perfect for relaxing the muscles. Our pool wasn't very deep so we had to roll around a bit to keep the temperature constant on all sides of our bodies, but everybody fitted in and it was warm enough.
A dip in the Antarctic ocean was naturally a part of the full experience. That was easy to do, just get up from the hot pool, walk a few meters and the icy sea water was right there ready to embrace anyone who dared. A quick swim and back to the thermal bath, bliss!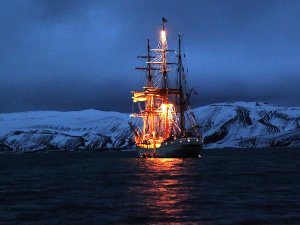 Bark Europa at night.
Glen wanted to document his Antarctic swim and handed out his camera to Eduardo. Into the icy water, back to the hot pool, happy and warm again. "Oh no, the photo is really bad, you look like a ghost. You'll have to do it again!" What wouldn't a man do for a good photo — switch the flash on and back to the sea. Another swim, relaxing in the hot pool, how's it now? "Oh no, also this photo is bad, you look like a ghost again! I guess you'll have to do it again..." There was a burst of laughter from everybody around Glen who still didn't get his photo. But no worries man, you have enough friends who witnessed that you did your swim, even two times! :-)
After an hour of bathing we got out of the pool and filled it again with sand to look like we had never been there. Getting dressed in the cold evening breeze was quite chilly, but after we had our clothes on it was better again. Back at the ship the warm deckhouse and hot chocolate were waiting for us.
No feedback yet
---
Copyright
Arto Teräs
<ajt@iki.fi>
, licensed under the
Creative Commons Attribution-Share Alike 3.0 Unported License
. (Unless otherwise mentioned in individual photos or other content.)