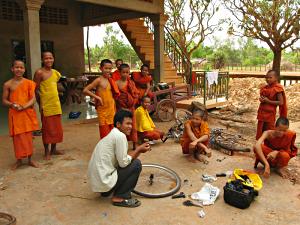 Border crossing from Thailand to Cambodia was easy, at 7:40 in the morning I didn't have to queue at all. The 160 km ride from the border to Siem Reap took three days and traveling by bicycle once again guaranteed many many smiles from locals. All kids happily greeted me by shouting "Hello" which reminded of India, but they usually didn't run to surround me here. The road was bumpy almost all the way and partly muddy but not so muddy that vehicles would get stuck in it — in other words okay by Cambodian standards. Scenery was mostly fields but very beautiful ones, covered by a layer of water as far as the eye could see.
When I arrived to Sisophon 50 kilometers later there was a wedding party going on. They invited me to join so I had a jump start into Khmer culture and a great chance to taste many kinds of local food. Drinking habits had common ground with Finland: when somebody wanted to have a toast with you the desired way to go was bottoms up. It was done with beer instead of vodka though. Partying was intensive, including almost rave party style dancing, but short. The whole thing ended already by late afternoon and everybody went home.
Following morning I pushed through the mud about 30 kilometers and arrived in a village called Rohal. There was a pagoda or a wat as they are called in Cambodia (essentially a buddhist monastery) and I went to take a look. Some people on the yard waved that I should go inside a building, where a group of young monks were studying buddhist scriptures. My arrival obviously disrupted the class, but it seemed to be a pleasant kind of disruption. The teacher spoke some English and started teaching me Khmer in return.
I was asked if I'd like to stay at the pagoda and I answered I'd be happy to. They gave me a private room which had a basic bed with a mosquito net and a small table. I washed out the sweat of the day and entertained everybody by changing a snapped spoke from the rear rim of my bicycle. There was only one older monk and a group of about 30 children and teenagers, I'd guess most of them were between 12 and 16 years old. In Cambodia it's quite common that boys become monks for a couple of months during that age, returning to normal life after the period of monkhood. In this particular pagoda some of the boys were apparently orphans and lived there for a longer time.
The teacher interestingly was not a monk but a married man who stayed outside the pagoda in the village with his wife, father-in-law and his family. He invited me there for a dinner. The food was rice, some fish and a green-coloured soup containing many different kinds of herbs. The soup had a quite distinct flavor from anything I had eaten in other countries, but it was really good. In Cambodia that kind of soup seems to be fairly common as I've come across a similar dish in a couple of roadside cafes, but the one at the teacher's house was the best I've tasted.
Life in the pagoda started early. I got up at around 5:40 and was certainly the last one. Beginning at around seven there was some kind of ceremony in the open space with a couple of hundred villagers gathering at the site. It was about paying respects to the Buddha but if I understood correctly (the teacher's English skills were quite limited) the reason for so many people that day was connected to someone having committed some kind of fraud. People brought various kinds of food which were then eaten together after the worship. After that I continued my trip towards Siem Reap, a city located close to the world famous Angkor temples.
1 comment
Hi It was nice to read your trip. It was first time, when I even didn't miss my dictionary. No I try to read all of your scripts. (Sorry, if my english wasn't perfect) Your friend frank
2007-05-19 @ 08:39
---
Copyright
Arto Teräs
<ajt@iki.fi>
, licensed under the
Creative Commons Attribution-Share Alike 3.0 Unported License
. (Unless otherwise mentioned in individual photos or other content.)