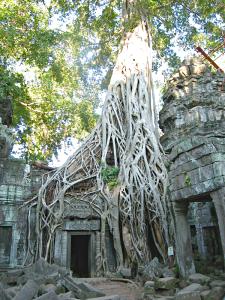 Cambodia is not a very well known travel destination except for one place, the world famous Angkor Wat. Actually Angkor is only one of the temples in a large area of bigger and smaller buildings of worship, constructed by the Khmer emperors during 802-1432 AD. Siem Reap is the city located closest to the temples and together with Angkor it's the tourist headquarters of the country.
Foreigners have to pay to enter the temples, prices being 20 U.S. dollars for a day pass, 40 USD for 3 days and 60 USD for 7 days. Guidebooks recommended three days but I felt that exploring every single temple ruin was not my main desire and went for one day only. As usual, I skipped all the moto, tuk-tuk and taxi driver's offers and made my own tour by bicycle.
Angkor Wat earned it's place amongst the truly impressive buildings I've visited. Huge in dimensions, yet fine in detail and every carved image being subtly different from each other, it was fascinating to sit up there in a quiet corner and imagine what the place had looked like in all its glory during a grand ceremony. Another temple, Bayon, featured the coolest large carvings of the smiling face of god Avalokiteshvara, or perhaps the king Jayavarman VII who built it. Still, my favourite was Ta Prohm, which had been left in a more natural state, with large trees taking over the ruins. The picture above is from Ta Prohm.
The city of Siem Reap was much less interesting. It was of course convenient by offering a large range of hotels, restaurants and other kinds of services, but I wasn't too eager to go pub crawling on the bar street with other westerners. I did go for dinner in one of the tourist restaurants and have to admit that their fish amok, a coconut flavored curry served with rice, was really delicious. In supermarkets trying to cater for western taste went a bit too far. It felt utterly silly to stare at a line of expensive tropical juices — imported from Greece! Unable to find any local product I walked back to the guesthouse and ordered a big glass of freshly squeezed pineapple juice.
In my series of "let's try different massages of the world" (which started in India) this time it was Seeing Hands 4 at Siem Reap. Cambodia is full of different kinds of NGO projects and Seeing Hands belongs to the more successful efforts. Blind people are trained to do massage so that they can earn a living in this country where social aid provided by the government is practically nonexistant. The style was Shiatsu and Anma, at least that's what it said on the sign. A very good experience, definitely recommended.
3 comments
Interesting place. I was wandering, that you have to pay so much to enter the temples. I have kept Cambodia very cheap country. Do you have any plan that how and when you are coming back to finland?
2007-05-28 @ 10:29
Cambodia is generally a cheap country, but when they put some special fee for foreigners (Cambodians don't have to pay to enter Angkor) it's usually not very cheap. Also restaurants catering to foreigners charge at least double compared to local eating places, and you can buy all kinds of western products at supermarkets - at western prices. So the spending depends largely on how you decide to live here. By staying in modest guesthouses and eating local food it's easy to get by for less than 10 U.S. dollars per day (many locals live with around 1 USD per day), but you can also spend many times more.
Yes, I do have a plan when and how I'm coming back. Actually I already have a flight ticket, Bangkok-Helsinki June 10th 2007. I was planning to mention it in my next letter, but as you asked here's the answer. :)
2007-05-28 @ 10:57
Moi, Olipa kiva käydä virtuaalimatkalla Angkor Watissa! Täällä Suomessakin taitaa olla sadekausi ja eilen oli 28 astetta lämmintä. Vaikea uskoa, että sun matka alkaa lähestyä loppuaan. Vuosi on kulunut nopeasti. Eipä tässä muuta kuin kesälomia odotellessa, ja tervetuloa Suomen suveen!
2007-05-30 @ 16:54
---
Copyright
Arto Teräs
<ajt@iki.fi>
, licensed under the
Creative Commons Attribution-Share Alike 3.0 Unported License
. (Unless otherwise mentioned in individual photos or other content.)