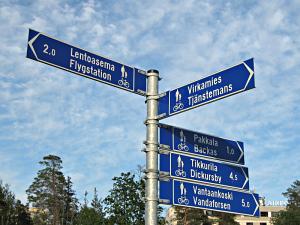 My return trip which started from Phnom Penh went rather smoothly. I pedaled towards the Thai border on the southern side of Tonle Sap lake, stopping mainly to eat and sleep on the way. In the afternoon I sometimes had a bit longer break to escape the heat, which exceeded 35 degrees on some days. In Phnom Sampeau I was once more hosted in a Cambodian family, this time a restaurant owner with his wife and a few months old son. He was searching for a foreign partner to open a guesthouse in Siem Reap. I wasn't ready for that but it was still interesting to talk with him.
Near the town of Pailin I crossed the border to Thailand and met my friend Phisit again in Chanthaburi. We visited once more his sister's fruit garden and returned to Phanathikhom. After one day of relaxing there I had my flight back to Helsinki from Bangkok airport. Once more I had to try to get through without overweight fees. I put my luggage on the scale, with the bicycle only halfway there — the display showed 23.3 kg and the girl behind the counter just smiled as they always do in Thailand. I smiled back and even the extra bag containing a selection of exotic fruits went through without problems.
In Finland I started by cycling from the airport to my parents' place with my friends Mikko and Sami. I wore only a t-shirt and shorts, which was a mistake resulting in a flu for the next couple of days. Mikko and Sami weren't suffering from cold in the same outfit so apparently my resistance to less than 30 degree weather had weakened in the warm countries.
In Helsinki it was surprising how easy it is to fill again your non-existing calendar. During the first six days I already met friends from the MikroPC magazine, hosted two French cyclists for a couple of days, visited my grandparents near Kotka and participated in my friend's graduation party. I also moved to my apartment in Haaga (in Northern Helsinki) and started to carry stuff back in. I began with the most important things such as installing the cd player, amplifier and loudspeakers. Otherwise arranging the flat hasn't progressed much, but it doesn't matter: I've got plenty of time to do it during the summer.
I won't stay in Helsinki for the whole summer, however. For the midsummer I'll head to Lapland beyond the arctic circle. Believe it or not, although I've lived in Finland for almost all my life it'll be the first time for me to experience the real midnight sun. I've seen plenty of nights during which it never becomes dark, but I have never been far enough in the north during the middle of the summer to see the sun up in the sky still at midnight.
5 comments
WELCOME! more conclusion on experience please:) and welcome to LT:)
2007-06-16 @ 22:33
Welcome back When is the welcome back party? Happy Juhannus / Hyvää Juhannusta
2007-06-16 @ 22:44
Yeah, I'll probably write some kind of conclusion later, just wasn't in the mood yet. Welcome party - err, maybe after I have a bit fewer cardboard boxes occupying the floorspace in the flat. :)
2007-06-16 @ 22:48
Welcome back!
2007-06-16 @ 22:50
Whoa, I'm glad you made it back in one piece! :-) Chapeau!
2007-06-16 @ 23:44
---
Copyright
Arto Teräs
<ajt@iki.fi>
, licensed under the
Creative Commons Attribution-Share Alike 3.0 Unported License
. (Unless otherwise mentioned in individual photos or other content.)