Deprecated
: Array and string offset access syntax with curly braces is deprecated in
/mnt/www1/site/ajt.iki.fi/data/blog/plugins/_texturize.plugin.php
on line
116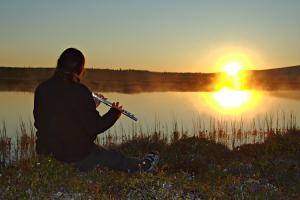 Time was 1:30 am on Sunday, 24th of June. Mist was slowly rising from a small pond on the north side of a swamp. A light breeze was gently shaping the mist into small clouds which crawled above the water. A girl was sitting on a hummock by the pond, playing flute. The sun was just above the horizon, casting an orange glow on her face. About twenty people were standing, sitting or lying still next to the girl, silently admiring the beauty of the moment.
That was the highlight of the Hospitality Club and CouchSurfing Midnight Sun Camp in Tuntsa, near the Russian border in northern Finland. We were quite lucky with the weather so the sun was actually visible during three out of the four nights we were there. In addition to watching the midnight sun, the camp included quite a lot of hiking, going to sauna, eating, a bit of drinking and some sleeping too. About half of the 38 participants were sleeping in a large cottage we had rented, other half in tents around it. There was no electricity and even mobile phones didn't work so it really felt being away in the woods. The cottage and sauna were located by the Tuntsa river, whose water we used directly for drinking — in the sauna we realized that it was possible to swim and drink at the same time! :-)
As generally in Finland, hiking in Tuntsa was more about small beautiful things than dramatic mountain scenery. None of the nearby hills rose much more than 200 meters higher than the surroundings, but that was enough to get above the tree cover and see quite far over the hilltops. There were a lot of dead trees with interesting strange shapes, some of them still standing, some fallen to the ground. Reindeer were common, other wildlife sightings included a number of different birds and one fox. Oh, there were mosquitoes too, although fortunately less than I expected.
For hiking people were mainly divided into four groups and I had promised to lead one of them. Of course it was not obligatory to join, but to my surprise almost everybody wanted to go walking instead of just relaxing at the camp. Most of the hikes we did were between 15 and 20 kilometers, partly on marked routes and partly away from all paths. I enjoyed going offroad and after once leading the group through a couple of extra swamps I learned to take into account the difference between geographical and magnetic north. The difference in those latitudes was already about 10 degrees, which was significant when hiking for several kilometers mainly relying on the compass.
On my long cycling tour I also stopped in several places to hike in the nature. There I usually went on my trips alone. In Tuntsa it was again easy to notice how different it is be in a group compared to hiking alone. As a talkative person I was almost all the time chatting with someone, whereas while hiking alone I listen to the nature more. The group in Tuntsa was great but the experience also tells me that at least occasionally I need the lonely walks too.
Now I'm already on another trip, cycling in Northern Norway with my old friends Mikko and Sami. At the moment we are in Lakselv, continuing further north. More about that later.
8 comments
Sounds like a wonderful place! Upi
2007-07-02 @ 17:34
I like the style of your writing, will definitely read more of it. Enjoy your trip.
2007-07-02 @ 22:55
Yeah, that evening was really magical. And that flute… Oh man, that flute… I will remember it years and years from now. It really was a perfect instrument for that fairy-tale moment. But that wasn't the only instrument played that "night". There were also a couple of Finns who sang beautiful melancholic (of course, what else, coming from Finns ;) songs. And their voices were beautiful instruments for that most special of evenings. Magic indeed.
2007-07-03 @ 01:05
Yes, definitely, the songs were really nice too, as good as the flute.
2007-07-07 @ 15:35
I also like your article, I will steal some ideas for my own ;)… Thanks for comments about the flute, it's such better to play when there are people to appreciate it and to sing… I've to say that the place and ambiance were a good source of inspiration to improvisate!
2007-07-07 @ 17:24
Was going to ask you some general advice on long-term cycling trips, and just now realized you're now making the route in Norway that I'm going to make with two (I hope) friends in August. Hope you'll return before that moment (around August5..9), so I'll be able question you a lot Good luck and good weather
2007-07-11 @ 20:21
I like your writing and hope to do a similar bike trip sometime in the near future. Good luck and keep posting. JAEIP.
2007-07-13 @ 16:09
---
Copyright
Arto Teräs
<ajt@iki.fi>
, licensed under the
Creative Commons Attribution-Share Alike 3.0 Unported License
. (Unless otherwise mentioned in individual photos or other content.)