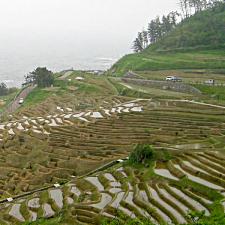 Recently there was a small movie festival in Helsinki focusing on climate change and environmental problems. The films were good, advertising a bit less successful. Most showings drew only a few dozen spectators despite the very low price of one euro per ticket.
In my opinion the most impressive film was Manufactured Landscapes. It doesn't preach or make naive observations what is right or wrong. It simply shows examples of human activity changing the nature, and landcapes formed by human activity alone. Some of the views are beautiful, others gruesome. Many times the camera starts from a small detail of a high resolution still photo, zooming out to reveal the enormous scale of the scene. I've never seen mass production presented in a more concrete and memorable way than the first few minutes of this film, with a camera sliding along a corridor in a Chinese factory. Highly recommended.
Other films included two Hollywood takes on climate change: An Inconvenient Truth and The 11th Hour. Of these two, my vote certainly goes to the Inconvenient Truth. It's built around lectures by Al Gore, which sounds like a bad idea at first, but the message comes out in a very clear and convincing way. While not an artistic masterpiece, it might be one of the most important movies of this decade.
The 11th Hour, on the other hand, tries to present so many opinions from various experts that it becomes a heap of scattered pieces of an unsolved puzzle. Of course many of the interviewed people have interesting things to say, which saves the film from being a complete disaster. I especially liked the ideas of Thom Hartmann, Oren Lyons and David Suzuki. However, I couldn't help thinking that a 15 minute film by one of the scientists could have told the story deeper and better than The 11th Hour did in an hour and a half.
Only one of the films in the festival was Finnish. Paratiisi — 3 matkaa tässä maailmassa by Elina Hirvonen was a though-provoking story about immigration. As a nice surprise the director was present for a very interesting Q/A session after the showing.
The photo of this blog entry shows rice fields on the Noto peninsula, Ishikawa prefecture, Japan.
No feedback yet
---
Copyright
Arto Teräs
<ajt@iki.fi>
, licensed under the
Creative Commons Attribution-Share Alike 3.0 Unported License
. (Unless otherwise mentioned in individual photos or other content.)