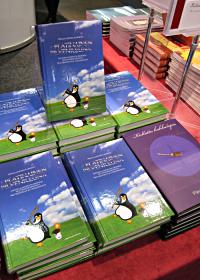 A few months ago I wrote about meeting Päivi and Santeri in Phnom Penh, Cambodia. They describe themselves as homeless loiterers and claim not to be doing much anything, but they've turned out to be quite active in writing books. They started with La Habanera (available in Finnish, in English and even in Hebrew) which tells their story of quitting their jobs and leaving Finland to escape the rat race. More recently published Platinainen pilvenreuna (in Finnish) describes Santeri's life as an entrepreneur in more detail through the rise and fall of Finnish Software Engineering SOT Oy, his open source software company.
Platinainen pilvenreuna was particularly interesting for me as during the good days of SOT I was the press secretary of the Finnish Linux User Group FLUG ry, collaborating with Santeri quite often. This is also mentioned in the book. Our relationship obviously changed when he left but friendship stayed. I helped a little with the book by reviewing draft versions of it during spring 2007. It was actually quite fun to read about familiar events in the recent history of information technology in Finland, while relaxing at a bamboo hut by the Indian sea.
Many bits and pieces of information in Platinainen pilvenreuna are in public for the first time. Facts are at least mostly correct. The story is told from Santeri's point of view, which may raise some different opinions on how the more private events actually went — the relations between him and some other main players were rocky at times. The main author of the book is actually Santeri's wife Päivi, which was probably good both for the balance and fluency of the text.
If you'd like to check out the book without buying it, it should be available in some libraries in Finland and I have two copies which I'll be happy to borrow (one of them is out right now). At least I personally liked the book and can therefore recommend it. See also Päivi's and Santeri's other books (in English | in Finnish) and Päivi's blog (in Finnish) about literature, reading and writing.
No feedback yet
---
Copyright
Arto Teräs
<ajt@iki.fi>
, licensed under the
Creative Commons Attribution-Share Alike 3.0 Unported License
. (Unless otherwise mentioned in individual photos or other content.)