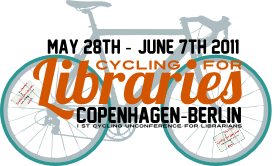 Today starts an interesting event called Cycling for Libraries. About 80 library professionals and other people, whose work is somehow connected to libraries, will be spending nine days cycling from Copenhagen to Berlin. The goal is to combine work, fun and healthy exercise outdoors in a new and exiting way. The welcome party was yesterday evening at the Copenhagen main library, featuring a pedal powered ice cream and coffee bar.
Cycling for Libraries is a moving conference, where the main focus will be on the informal discussions between talks and other organized sessions. Hey, those are often the most interesting bits in conferences anyway. There will be some seminars, workshops and visits at local libraries on the way, but most of the time the participants will create the event themselves. I'm curious to see how much of the discussions will be focused on library topics, how much on cycling and how much on everything else. The organizers don't have a clue either, they're also doing this the first time.
For me it'll be the second time to participate in a organized cycling tour. Cycling for Libraries will not be as ecological and down to earth as the Ecotopia Biketour I joined in 2006, but still relatively low on luxury for a professional event. Accommodation will be at campsites, hostels and schools. I like that — sharing the space in a dormitory room or in a tent is a good way to get to know each other.
It's also a great opportunity to get out from my home office. It's too easy to get stuck to routines there, and have too little communication with the outside world. I came to Copenhagen a few days in advance and have really enjoyed my time here. Almost everybody is moving around by bicycle and that gives a special spirit to the whole city. Already on the first day, crossing a canal on a big bridge together with dozens of other cyclists and only a few motorists, I had a great feeling of being part of the community.
No feedback yet
---
Copyright
Arto Teräs
<ajt@iki.fi>
, licensed under the
Creative Commons Attribution-Share Alike 3.0 Unported License
. (Unless otherwise mentioned in individual photos or other content.)