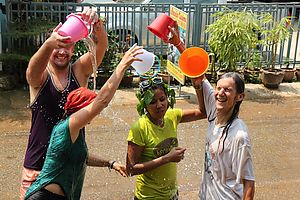 In Mid-April, in the town of Vang Vieng, we attended the cheerful celebration of Pi Mai Lao, the Lao New Year. Hundreds of people poured small buckets of water over us, wishing us Happy New Year. We joined the teams by the roadside and did our own share of watering people passing by. Beer Lao was generously offered to friends and strangers alike, music was played from large loudspeakers all around the town and everybody had a great time.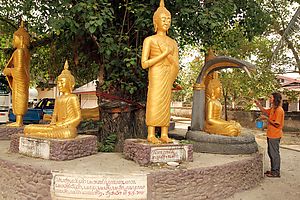 Traditionally, people prepare flowers and perfumed water which is taken to temples and sprinkled over buddha statues. Some of the water is carried back home and gently poured on relatives and friends, to purify them and give a good start for the New Year. This all still happens and the Buddhist New Year is a beautiful time to visit a temple, stop for a prayer and do the ceremony following the locals. We also did.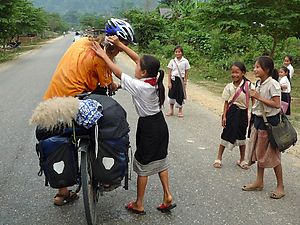 A newer habit is to stand in small groups by the roadside, armed with a garden hose, buckets and water guns, and to pour or throw water on everyone who passes by. People in Laos usually drive small motorcycles, which makes them good targets. Even the majority of cars are pickups or half-open trucks, with people sitting in the back unprotected from water. If someone doesn't like to get wet, it's simply best to stay indoors. Most people don't mind, as it's part of the New Year and the sun dries everything quickly anyway.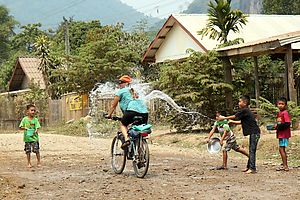 In the gentle and polite version of the New Year greeting, people first wave the driver to stop. Then they pour a small amount of water on the neck so that it runs down along the back, accompanied with a cheerful wish of "Sabai dii Pi Mai", "Souksan van Pi Mai" or "Suk dii Pi Mai", which translate to "Happy New Year" or "Good luck for the New Year". If someone has a bag or something else which shouldn't get wet, it can be lifted up so that no damage is done. Especially elderly people were mostly greeted this way.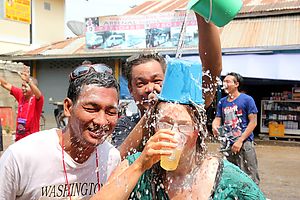 We as young foreigners on bicycles were naturally fair targets for all variants of the game. Often we got several buckets of water poured over us, followed by a glass of beer to drink, which we were expected to finish before being allowed to ride forwards. Children sprayed us with water guns, sometimes with water coloured in yellow, green or red. A couple of times we also got white talcum powder sprinkled on our heads. It was fun to ride around to see and feel the party.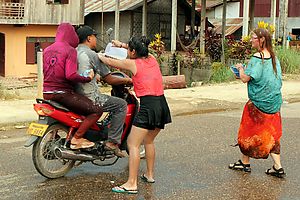 When we wanted to play with water ourselves, we simply stopped at one of the groups of locals by the roadside. They welcomed us enthusiastically with an extra dose of water to make sure we'd be wet enough, we got buckets, a bit of colour to the face and a glass of beer, and were ready to join the team. So we also poured and threw water on passers-by, on each other and on everybody around, wished all Happy New Year and danced to the music. As for the beer, we tried our best to drink a little bit with everyone while avoiding to get too drunk. I'd say it worked out quite well.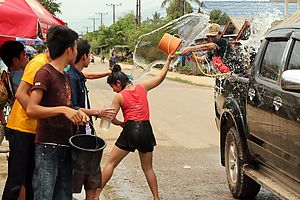 There were also many groups driving around in pickup trucks, equipped with barrels full of water, buckets, water guns and sometimes small water bombs. They engaged in water fights with other pickups and with the teams by the roadside. Even a bigger truck with a several thousand liter tank of water drove around spraying water from a big hose. We heard that spraying water directly from garden hoses and coloured water are actually forbidden, but nobody seemed to mind. These were joyful water fights where everybody wins.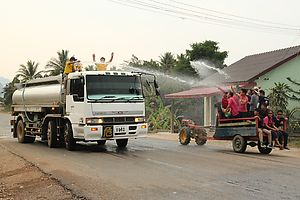 Officially the celebrations lasted for three days, from 14th until 16th of April. Some people started a day or two earlier, but 16th was really the last day with water play. Eating, drinking and dancing continued a day or two more, extending the party to a full week. Most of the activity happened during daytime, from about 10 am until 5 or 6 pm. In the evening nobody was throwing water any more: it was time to sit down, eat and drink with friends. Music was played at all times. In Laos nobody complains about loud music even at night, especially not during New Year. Still, after 9 or 10 pm most people went to sleep and it was already relatively quiet.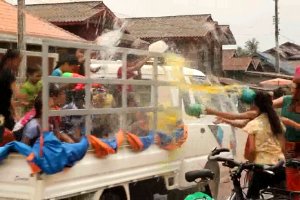 We were impressed by the openness of people welcoming us, even though we didn't know more than a couple of words of Lao and the English abilities of our hosts were often on the same level. In Germany or Finland strangers passing by would not be so easily invited to join and warmly welcomed to a party. The attitude of the Lao people was that shared fun is more fun, and everybody is welcome. That's something we can also try to learn from them.
Overall, the Lao New Year was one the funniest festivals we've ever been to. People were happy, playful and relaxed, having a good party mood. The water play was sometimes wild, but not rough. If we happen to be in Laos or Thailand (where the festival is called Songkran) in the future at the same time of the year, we'll certainly be on the streets again.
No feedback yet
---
Copyright
Arto Teräs
<ajt@iki.fi>
, licensed under the
Creative Commons Attribution-Share Alike 3.0 Unported License
. (Unless otherwise mentioned in individual photos or other content.)