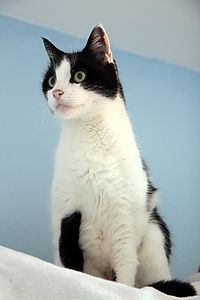 Let us introduce Germaine, our new furry companion. She likes to lie down and relax, not worrying too much about what's happening in the world. She follows us around in the flat and knows how to get food and attention. She miaows or squeeks in a special way, lifts her tail up and vibrates it. She has hurt her tail at some earlier time in life and cannot move the last part, so it forms a funny looking arc. When not eating, Germaine's favourite place is on the bed. Sounds like a comfortable and easy life, doesn't it?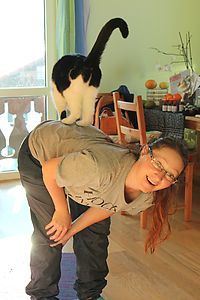 Germaine spent her first 15 years with an elderly lady, who passed away a few months ago. She needed a new home and we decided to offer ours. It took her a while to get used to us and the new environment, but now it feels like she had always been here. For her age, equivalent to around 75 human years, she's quite fit. She suffers from digestion problems, needs special food and medicine, but otherwise she seems to be a happy cat.
We don't have a garden where Germaine could go out, but she is anyway not used to it after spending all her life indoors. When we open the balcony door, she may shortly step outside to smell fresh air, but comes soon back in. First we were careful as we thought she might jump down on the neighbour's balcony, but she doesn't seem to even consider that. An even if she would, it wouldn't be too bad as the neighbour below us likes cats too.
After returning from Thailand and Laos in May, Sandra has been working again, this time in a laboratory together with her best friend. I spent a couple of months in Finland during the summer and after that I've had various small projects like renovating our balcony. We also bought a wood oven so we can enjoy watching flames and keep our flat warm without being dependent on oil.
It looks like we'll spend at least the winter and early spring mostly here in Germany. A hint to our friends: if you've been thinking of visiting us, now would be a good time! Sooner or later we'll probably go travelling again and will also need to find someone to take care of Germaine. However, for now she's living here with us and bringing us joy.
1 comment
Very nice!
2013-12-23 @ 10:03
---
Copyright
Arto Teräs
<ajt@iki.fi>
, licensed under the
Creative Commons Attribution-Share Alike 3.0 Unported License
. (Unless otherwise mentioned in individual photos or other content.)